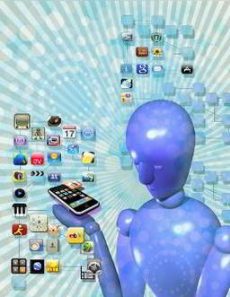 It's an app world, and it could swallow all computing
Meet Barbara Place. She's an app-aholic. One look at her smartphone explains her condition.
She has an app to wake her, a few to provide the day's news, one to check her bank account, another to make a grocery list, two to track her diet and one to get the weather. She has an app for baseball scores and an app for movie data. One app lets her program her DVR from afar. Another helps her unwind with quizzes about famous artworks. And that's just a portion of her daily intake.
"My husband is jealous of my iPhone," says Place, 58, an educational software writer from Phoenix. "I try hard not to use it in bed."
Such stories of dependency are growing as apps — shorthand for the ubiquitous software applications that live on iPhones, iPod Touches and an array of mobile devices running Google's Android operating system — continue their inexorable march from cellphone novelties to virtual personal assistants.
More than 100,000 apps now populate Apple's App Store, which opened for business two years ago. Since then, more than 2 billion apps have been downloaded at prices ranging from free to $900 (for iRa Pro, which links a phone to a surveillance camera network).
Tech specialists estimate the annual app market at $2 billion. That probably will grow once Apple's iPad, which arrives Saturday, gets going with a new breed of apps aimed at redefining the user experience.

"The sea change here is that people are gradually moving away from spending time with TV and computers to their mobile devices," says Matt Murphy, who manages the iFund — which invests in iPhone-specific app developers — for Silicon Valley venture capital firm Kleiner Perkins Caufield & Byers. "And that mobile time is increasingly less about talking and all about apps."
He points to recent statistics prepared by Morgan Stanley tech analyst Mary Meeker showing that typical cellphone users now spend 30% of their 40-minutes-a-day average on data, and iPhone users spend 55% of their 60-minute average on non-talking phone activities.
"There will be no slowing this app economy," Murphy says. "Apps enrich our lives in ways specific to who we are. Look for the current app snacks we have on our iPhones to turn into a meal on the iPad as the app experiences become far more immersive."
That's scary news for Dan Wright, who's already wrestling with his phone's on/off switch.
"It's hard for me to tell my kids to turn off their devices and pay attention at dinner when my own phone is pinging and buzzing at me constantly," says Wright, 49, a publishing consultant from Gallatin, Tenn. "I struggle. I'm married with three kids, and yet it's easy to get so carried away shopping around for the next new app. I am trying hard to turn it off."
Part of the problem is that Wright's mobile phone now largely takes the place of his computer. Whether he's blogging, tweeting, Skypeing or just playing, it all happens through apps.
"My mobile device doesn't boot up, it just comes on. I love that," he says. "I was skeptical about the iPad, but I'm changing my thinking. It could help me move almost completely off my computer."
A part of everyday life
If Wright doesn't suffer from it already, clearly he is ripe for a disease common to any app addict.
"I call it the iPhone Hunch: people who are on their phones but not using them to talk," says Paul Saffo, a Silicon Valley futurist and consulting associate professor at Stanford University.
Saffo envisions a near future in which today's home computer feels like yesterday's brick-size cellphone, an immobile hunk of hardware that doesn't mesh with our always-on-the-go lives.
Central to that vision is the app-loaded mobile device, which he calls "our own personal diplomats for negotiating the physical world." The lightning-quick embrace of apps, he says, is rooted in two simple lures: ease and price.
"A one-click purchase appeals to our need for instant gratification, and the low cost means that you can buy at will," Saffo says.
In fact, with many apps priced the same as a song — 99 cents — people increasingly "treat buying an app much as they would music: It's disposable and there's no great regret if you don't pick a winner," says Tom Hume, managing director of Future Platforms, an app developer based in Brighton, England, that has worked on apps for clients such as Microsoft and Hasbro.
Hume says apps "have a way of appealing to our most basic needs." He rattles off a list of popular food-related apps, then drops the F-word: iFart, one of the most popular apps to date, which replicates the favorite sound of preteens.
"Some apps are ridiculous, but they sell," he says. "The more an app is tied to everyday life, the better the chance it has."
Olga George can't imagine what she'd do without apps.
"I do not remember my life before apps, seriously," says George, 39, an assignment editor at KDKA-TV in Pittsburgh. "At first, I was nervous downloading them, but once I bought the first few, I was off to the races."
Her apps now take up six screens on her iPhone, ranging from weather alerts to restaurant recommendations. What she likes best, though, is how apps routinely come to her rescue, like the time she got into a heated discussion about the Bible and the Constitution with a friend. Two apps later, she had info to prove her points.
That may not be as dramatic as when Colorado relief worker Dan Woolley found himself trapped in rubble after Haiti's earthquake and used a first-aid app to learn how to fashion a tourniquet that saved his life. But the point is similar: Apps have a way of insinuating themselves into our lives in surprising ways.
Take iSteam, an app created by Kostas Eleftheriou that turns the screen into a fogged-up shower door you can write on. A hugely popular app, it allowed Eleftheriou to start Great Apps, which is moving headquarters from London to San Francisco.
"Our phones are like Swiss Army knives, stuffed with all sorts of help," he says. "What many developers find exciting is the possibility of having many of those apps working at once."
That's not possible now on the popular iPhone (to start a new app, the one in use must be shut down), but it is on phones with the Android system. Apple is tight-lipped when it comes to its products and policies, and recently removed R-rated apps with bikini models from its store. In contrast, Google appears keen on letting developers and consumers paint the app landscape.
"We just want a rich Web and app experience for consumers," says Eric Chu, group manager for Google's Android Mobile Platform. "Android is about multitasking, which will be increasingly key with the growth in apps that can monitor where you are and what you like."
Gail Dull took the smartphone plunge recently and hasn't looked back. She, too, wakes up with an app, checks the weather and gets her news. It hardly stops there. She's app-ready for things that haven't happened.
"If I'm in an accident, I can use my AAA and insurance company apps to start the claim process, and use my built-in camera phone to document the damage," says Dull, 37, a technical writer from Camp Hill, Pa. "If I'm out and there's something on TV I want to watch, I use my Slingbox app to view it live on my iPhone. I've just never had anything so ingrained in my life."
It's 'all about you'
The essence of the app's appeal is power, says Peter Sealey, adjunct professor of marketing at Claremont (Calif.) Graduate University and an adviser to various Silicon Valley tech companies.
"The app world is all about you," Sealey says. "From the way we use our apps to the way they seem to spread … by word of mouth, this represents a new level of cultural and social empowerment for the individual."
Many apps appear to provide the same sort of freedom people felt when phones first became cordless, then wireless.
Square, an app expected this summer, will allow mobile devices to accept credit card payments via a card-reading dongle, effectively making any person an insta-merchant. And month-old stickybits hopes to create an entirely new mode of communication via bar code.
The company sells a packet of 20 bar codes for $10, which users can deploy as they see fit, "say, attaching a video to a bar code that you put in a birthday card, which shows you singing Happy Birthday," says app co-founder Seth Goldstein.
"Apps are the layer that connect us all through our mobile devices," he says. "This is the age of pervasive computing."
Few groups adapt faster to new technology than college students, which is why Aaron Wasserman is bullish on an app he created with other Stanford students. Dubbed iStanford, it allows students to do everything from finding classrooms to enrolling in courses with their phones. The students' company, recently acquired by Blackboard Mobile, is in the process of rolling out apps to 100 universities worldwide.
"Students today simply expect to have a school app experience," Wasserman says. "If you're choosing between two schools, the one with the cool app just might lure you in."
Eli Bensky, 78, is far from college age. But the part-time financial planner from Houston is as keen on apps as any campus dweller. "It's my life," he says. "I don't go to my TV for weather anymore. And with my Kindle app, I've read more books in the past six months than I have in the past five years."
His apps also bring him peace of mind. One lists all his medical conditions, which he uses as his phone's wallpaper in case he's found unconscious.
"It's to the point where I'm not sure what I'd do without my apps," Bensky says. "I don't see how they could get any better."
Dom Sagolla does.
As the San Francisco Web developer who helped create Twitter sees it, the true "killer app" is yet to come, and it "will be so compelling that it will make you want to go out and buy the hardware" — in other words, a $1 app driving a $400 purchase.
So what will that wildly irresistible app look like?
"It will be an app that draws us all in around one single mobile device, something with the effect of a coffee-table book," says Sagolla, founder of a series of development camps for app creators. "It will be high-quality and art-like, with the ability to be a point of conversation and learning."
For Place, the ultimate app already exists — whichever one most recently brightened her day. Like the time she went shopping with her mother, who's 87.
"She was bored," Place says. "So I pulled up a newspaper's app, handed it to Mom and she was happy. And so was I."
By Marco R. della Cava, USA TODAY