Internet & Search Engine Marketing
Over 70% of US Households Use the Internet when Shopping Locally for Products and Services!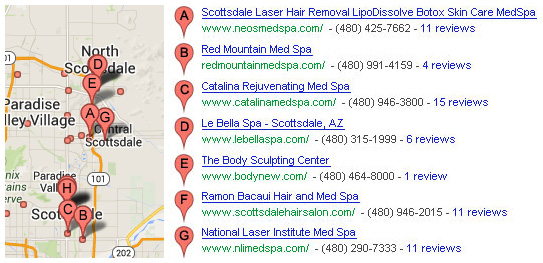 Optimize Your Google Places Local Search Result Placement
The importance of location based search results to your company's bottom line cannot be overemphasized. Google Places Local Search Results appear when search engine giant Google display "geo-targeted" information. In the example above, there is a Google search result for "Scottsdale Med Spa". As you can see, a map was at the top of the search results with 7 businesses being featured. From this map, users can visit the businesses website, get driving directions, and view reviews from other users. Other search engines such as Bing and Yahoo also use these map references to show results that have local content.
It's Simple, if your Business Serves Local Customers you Must Concentrate on Local Search!
The Net-Craft internet marketing team are experts at improving your local search-engine ranking. Our internet marketing specialists will work to make your website show up on the first page of Google, Yahoo, and Bing in the local area where you conduct business. We achieve these results by performing the following local search optimization tasks:
Analyze your specific market for the most relevant keywords and determine the level of competition.
Create and optimize the information found on your your local map listings.
Revise listing content to make it relevant for local searchers.
Create Citations/links to your business information on other sites and directories.
Optimize your websites content to focus on the correct geo-terms needed for ranking in local search results.
Monitor and promote the review process of customers leaving honest feedback about your products or services.
Analyze your current website and give feedback on how to improve your content/design/position.
Our Internet Marketing Services Don't Stop There
Local search optimization is only part of our suite of internet marketing services. We also offer:
Get A Free Internet Marketing Quote
We deliver measurable results not just empty promises.