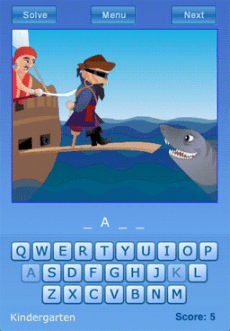 New iPhone App: Kinder Hangman
The iPhone app development team at NetCraft has just launched a new app called Kinder Hangman. The Kinder Hangman app is the classic hangman app developed for kids. Word categories include grade levels kindergarten through Sixth, countries, mammals, birds, bugs, reptiles, fish, US States, superheroes, dinosaurs, and sports.
Reviews:
Nice app for kids, my 7 year old likes the word categories…funny though he likes to see the animations when he loses.
My daughter has a lot of fun playing the princess and witch theme, teaches her some new words while she is having fun.
We like the app, and look forward to you adding more iPhone graphic scenarios.