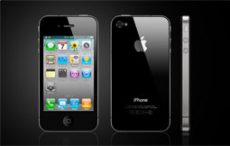 Apple Announces New iPhone Available on June 24th, 2010
Apple's has had remarkable success with its mobile devices the iPhone, iPod Touch and iPad. With Apple's annual WWDC yesterday they announced their latest iPhone. This new release, the iPhone 4, looks to be the largest leap in technology since the original iPhone. A quick rundown of new features include:
Better battery life
Better microphone and speaker for speakerphone conversations w/ noise cancellation
Better camera for pictures, HD video and video conferencing – including flash
Faster processor
Multi-tasking
Bluetooth keyboard support
A 'select all' button for email
Grouping of similar Apps within Folders
A book reader with notes and search capabilities
iWork Apps for iPhone
The most obvious weakness of previous iPhones has been battery life. And, it looks like Apple has addressed this with a quicker and lower power consumption A4 chip for the iPhone 4 as well as a slightly larger battery.
Net-Craft develops applications for the iPhone ecosystem of devices. If you are interested in speaking about an app idea you have, please contact us by clicking here.