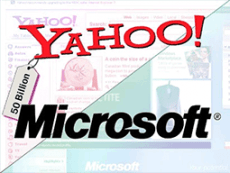 Update on the Yahoo & Bing Search Alliance
Important news for clients interested in organic search engine marketing as well as PayPerClick. Right now, Microsoft's search engine Bing is beginning to power organic search results on Yahoo! Search in the United States and Canada.
When finished, Bing will be the engine behind more than five billion monthly user searches. This accounts for over thirty-one percent of the search engine market share in the US and almost nine percent in Canada. As a website owner you should be taking advantage of this huge amount of traffic by employing a consistent and professional search engine marketing strategy (SEO) to enhance your website's visibility on the internet.
If you would like to learn more about the Yahoo and Bing search engine alliance nd how this affects your website's search engine rankings, please contact the Net-Craft.com Internet Marketing team by clicking here.