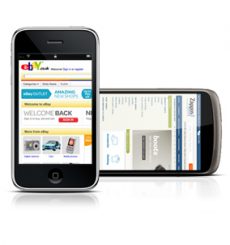 Shopping with Mobile Devices Could be as Large as Shopping Online
A new study by ForSee indicates that users are utilizing their Smartphones to either make actual purchases or perform pre-buying research with increased frequency. Ten-thousand web users of top retail web sites were surveyed, they indicated an almost 10% growth rate in the use of a mobile phone to make a purchase online.
The amount of users who used their phone to research products, look-up pricing, read product reviews and locate stores was up almost twenty percent. The mobile web use of today is closely matching standard Internet use of years past.
The future for mobile eCommerce looks extremely positive. Auction giant eBay indicated users shopping with their mobile app increased almost one-hundred and thirty-five percent last year. Although the use of smart phones seems ubiquitous, their market adoption is currently low at about 18%. Imagine the growth year after year as the amount of users using these devices increase.
If you would like to review your companies mobile strategy with a mobile enhanced website or mobile app, please contact Net-Craft.com today.