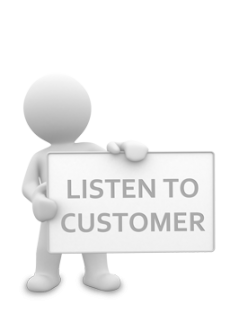 Improve Your Website by Listening to Your Customers
Gathering feedback from your current and potential customers is an incredibly valuable tool to improve the effectiveness of your web presence. Here are four easy ways to gather customer feedback.
Conduct Surveys:  Using free web-enabled survey services such as www.SurveyMonkey.com, allow you to quickly gather customer information such as their likes, dislikes, concerns, what they value most and what improvements they would like to see.
Read Reviews:    Monitoring your own customer reviews is a good practice but monitoring your competition is equally important. You can learn key points that your competition is doing well and poorly. This will allow you to adjust your own business practices to take advantage of this information.
Social Media:    Be sure to read what your target audience is reading — this may include social media such as FaceBook and Twitter to trade websites and customer comments about relevant articles.
Networking events:    Attending events will allow you to engage directly with potential customers and industry partners. There are numerous networking events available for almost every industry. These include networking luncheons, association meetings and fund raisers.