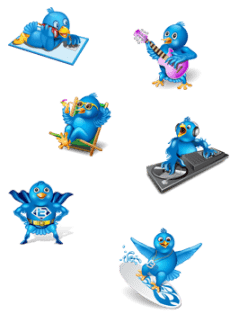 Using Twitter for Your Business
Twitter is a great forum to post ideas and also learn about a variety of subjects. Twitter can also be useful for furthering your business objectives. Below are a few tips for using Twitter with your business.
| | |
| --- | --- |
| Tip #1: | Assign a person within your organization the task of tweeting. This individual should be very knowledgeable about your business, have the authority to make customer service decisions and most importantly have the time to consistently post and monitor your Twitter feed. |
| Tip #2: | Make sure the people and businesses you follow are relevant to your business. This will ensure your stream has relevant and interesting tweets that you can re-tweet when appropriate. |
| Tip #3: | Search for followers by using industry specific keywords using Twitter's search bar. |
| Tip #4: | Search for, read and respond to posts about your company in a positive manner. |
| Tip #5: | Ask questions and solicit advice from your Twitter followers when you need a suggestion or feedback. |
| Tip #6: | Reward your Twitter followers with special discounts and giveaways valid only for them. |
| Tip #7: | Share info and photos about your business that are behind the scenes in nature. This will give your followers a sense of membership that can be rewarding. |
If you would like to speak to Net-Craft.com about social media marketing with Twitter and other social media tools, custom images and video for your website, please contact us today.