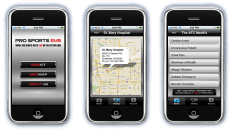 New iPhone App Launched: Pro Sports EMS
Net-Craft with our mobile app development group SharkFuel.com have
released the Pro Sports EMS app for the Apple iPhone. Pro Sports EMS
coordinates emergency medical services coverage at professional sporting
events nationwide. The also provide Paramedic care for the athletes
participating in sporting events. The MedMap iPhone App is a uniquely
designed mobile application that assists Pro Sports ATC's, Team Physicians,
and Healthcare Professionals while they are on the road with their team.
MedKit Providers have the ability to download the MedKit Protocols, and
receive updates on their iPhone.