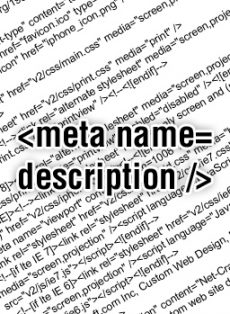 Is SEO Meta Information Relevant Anymore?
Meta descriptor tags in website code have been used for years as a way to optimize a website's search engine position. Lately this practice has fallen out of favor among professional search engine optimizers.
Google has indicated that it does not take meta descriptions into account within its search algorithm anymore. Recently a web site publication conducted a study that examined popular keyword searches and examined the meta code from the top 10 results. The study concluded that while web sites continue to use the meta code area, its impact on search engine positioning is marginal at best. Microsoft's search engine, Bing, was found to be a bit more likely to include the Meta description content within its search result.
While the impact from Meta code placement might not be as high as it once was, search engines do not penalize content providers for using it, (unless the meta text does not apply to the page content) therefore we still recommend using the Meta area for page descriptors.
If you would like to speak to Net-Craft.com about developing or improving your organic search engine listings, please contact us today.