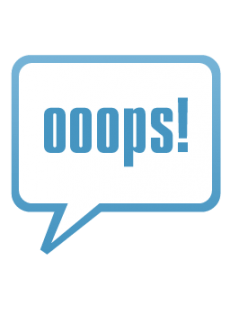 Catastrophic Mistakes Businesses Make with Social Media
Social media marketing is at the top of many companies' marketing to-do lists. Over the course of the next year or two, most businesses will be investing in social media since the landscape is very promising with the possibility of viral exposure, search results infused with social listings, and unlimited possibilities for positive brand exposure. While marketers dive headlong into social media, some are learning valuable lessons in leveraging social media the hard way.
Relying on Facebook Reach and Frequency to Measure Social Impact
Many marketers have seized on Facebook's advertising platform in an effort to maximize exposure to their business Facebook page. While Facebook has been using reach and frequency to measure the social impact of their advertising campaigns, this model is outdated and does not truly indicate the ROI of those ads. The metrics of running a successful ad campaign on Facebook are quite different than the traditional model used by television stations, and these metrics need to be updated to ensure that businesses can derive information and insight into the success of their ad campaign.
Using Groupon to Drive Traffic – It may Not be Worth it
Many businesses have jumped at the opportunity to drive traffic to their business through daily deals companies like Groupon. Companies are offering substantial discounts to customers that purchase discount codes as a group through Groupon. While Groupon has served to drive a substantial amount of sales, some businesses have had to close their doors after fulfilling orders in bulk at an 80% discount. Under the premise that customers would become repeat customers after they had redeemed their discount offer, businesses have been trying to reevaluate their use of daily deals when that just didn't happen.
Instead, businesses can request that their customers leave a review on Yelp or other popular review sites – good or bad – after their buying experience. This helps future customers make a decision, as many people read reviews online to evaluate past customer experiences and gauge the business's reputation.
Investing Time in Pinterest – Not Every Business is Suited for Pinterest
Trusted industry experts and reputable news sites have been buzzing about Pinterest labeling it the 'top social referrer' and the 'fastest growing social network.' Many businesses have become active on Pinterest to drive traffic and gain more exposure. Even though many businesses have done well advertising through Pinterest, that doesn't mean that every business needs a presence there.
Pinterest is ideal for businesses that are visually driven like fashion, food, beverage, design, furnishings, etc., but for many businesses, Pinterest just doesn't make sense. With Pinterest becoming convoluted due to an influx of new curators, users now have to wade through many different options before they make a buying decision.
A better option is to optimize images on the company website to include appropriate alt tags so that they will appear in the search engines.
A good social media strategy includes persistent, gradual, consistent relationship building, and trust is cultivated through exchanging value. While social media may be a long-term strategy, marketers can derive real benefit from staying involved with the ever-changing social landscape.
If you would like to speak to Net-Craft.com about starting or managing your social media presence including Twitter , Facebook and Pinterest, please contact us today.