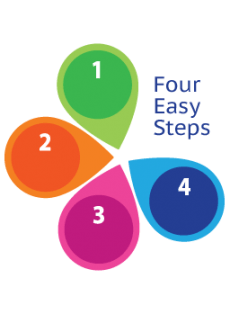 Achieve Online Success in Four Easy Steps
Taking your business to the next level often involves exploring marketing initiatives that you may not have tried before or have spent little time with in the past. To position yourself to achieve online success, use these four steps and watch your opportunities grow.
Step #1: Establish or Broaden Your Presence on the Web.
Maintaining an up-to-date website is crucial for staying competitive in modern markets. If you don't have a website already, several online services offer pre-made website templates or hosting services for simple and low cost start up.
Step #2: Take Advantage of Social Media.
Popular social media giants such as Facebook, YouTube, and Twitter provide well established platforms for building, managing, and retaining your customer base. Use your accounts to generate buzz and keep consumers informed of exciting new developments with your company. Because these services are free and saturated with consumers of all ages, you can quickly and efficiently spread news at little to no cost.
Step #3: Track Your Visitors.
Existing user-friendly web analytics tools can provide you great insight and value regarding your customers' desires and expectations by capturing the search terms that brought them to your page or specifically what they view while visiting. Use this information to your advantage to learn your user demographic or for targeted advertisement strategies.
Step #4: Mind Consumer Trends.
Technology growth provides customers and businesses with new venues or platforms for interacting daily. Be mindful of the latest craze. For example, the wild success of smart phones has greatly increased mobile web browsing. Be sure that your website is up-to-date, and consider introducing mobile friendly or mobile dedicated content.