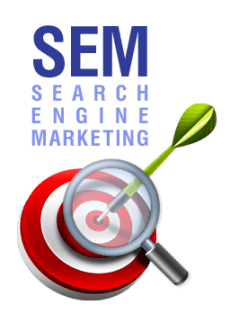 The Basics of SEM – Search Engine Marketing

Search engine marketing is a great way to keep your product or service visible when people are searching keywords related to what you offer. If you want your product or service to be listed at the top of the search engines, then learning the basics of search engine marketing (SEM) is a must!
What is Search Engine Marketing (SEM)?
Search engine marketing is a marketing technique used to improve online visibility and to increase click through rates on the search engines through paid, strategic ad placement. 41% of U.S. customers use online search engines to find products or services, which is one reason why SEM has become a staple in the digital marketing world.
How does SEM Increase Your Bottom Line?
Search engine marketing is also known as Pay Per Click (PPC) advertising, and this model evaluates the position of your ad in the search results based on the cost per click (CPC) that you enter for your product or service. For industry relevant keywords, your targeted ad will appear in the search results, and every time someone clicks on that ad, you will be charged the CPC rate that you chose for your ad. Basically, you pay for the leads that are generated through your placement in the search engines.
Understanding how SEM Works
As an illustration, let's say that you own an automotive shop. You want to rank in the search engines for the term "automotive shop Denver," so you place an ad with appropriate text and a link to your website. To be on the first page of search results and to take the first spot of the paid search results (typically highlighted in yellow at the top of the page and on the sides of the page), you elect to pay $1 per click and run your ad campaign with a maximum bid of $100. If that CPC is competitive for the keyword that you chose (some keywords cost $10, $20, or more per click for first page placement), then you could get 100 new leads to your website for $100. The cost of each click will vary depending on the keyword you choose and your industry.
Why Should You Use SEM to Generate Leads?
By getting your message in front of your target audience with tailored ads, you can increase your exposure, visibility, and generate new customers quickly and efficiently. Make sure that you have the best keywords for your particular business so that you can get the most from your ads. You should also track the results from each ad and keyword to ensure maximum exposure and greater ROI on each ad. This particular form of digital advertising allows you to pay to reach only those customers that are actively searching for the solutions that you offer, which gives you an added advantage and can help you grow your business.
If you would like to learn more about Search Engine Marketing please click here.