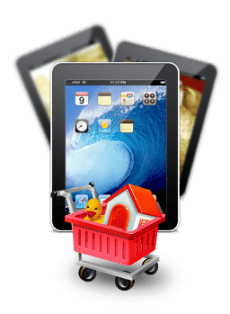 Increase Sales and Conversions by Optimizing Your Website for Tablet Users
If you've considered developing a digital strategy targeted to tablet users, you may have considered the question of whether to offer them a desktop or mobile browsing experience. To stay ahead of the curve, you should create a design specifically for the tablet. These devices are revolutionizing the online shopping industry, and businesses that have taken the time to create a functional, attractive tablet design are capitalizing on this trend.
Creating a Unique Browsing Experience for Tablets
Since shopping on a tablet is inherently different than using a handheld mobile device or desktop computer to make your purchases, it warrants a completely unique and customized experience. Since the user experience is very touch-oriented on a tablet, your website should feature an interface that allows for quick and effortless browsing and a safe, efficient checkout process.
Bridging the Gap Between Mobile and Desktop
Tablets have merged the best of mobile and traditional desktop browsing to generate a user-centric, personalized, context-relevant experience for users. Websites optimized for the tablet result in a more enjoyable browsing experience for users. Tablets also make shopping simple, fast, and efficient.
Luxury retailers and other well-known brands are taking advantage of this new device by developing a platform that adjusts the user experience and includes additional context by creating customized offers for customers based on their purchases. While smartphones will continue to play a crucial role in the ecommerce market, tablets are becoming the preferred platform for online shopping and browsing.
Leverage Tablets as a Powerful Sales Tool
As the digital market is focused on evolving and improving their tablet strategies, retailers can also leverage these devices to better serve their clientele and build brand loyalty. Arming your sales force with tablet devices allows staff members to gain instant access to a client's order history and preferences. This can help brands reposition themselves in the market and redefine the relationship between sales associates and customers.
Tablet devices can also help to expedite the checkout process, as customers are able to approach employees to instantly complete their transaction. This results in a more efficient checkout process for both the customer and the company, paving the way for a more enjoyable experience.
The Future is Bright for Tablet Users
While tablets can be used to help your sales team attract new clients and establish lasting relationships with existing clients, they will play an even more significant role in the retail space in the future. These simulated fitting rooms will give customers the ability to use a virtually model different outfits to choose their favorite and decide what will look best on them. This will revolutionize the shopping experience for customers, enabling them to "try on" outfits without ever setting foot in the store. This new technology, known as augmented reality, can even allow customers to try on jewelry or watches. While these technologies are still in their infancy, they will become mainstream within the next few years.
When developing digital strategies as they apply to tablets, it is important to recognize that these devices demand a unique and tailored experience. Market research can help you determine how shoppers use tablets when they access your website, which can form the basis of your digital strategies so that you can leverage them to your advantage in the future.
If you would like to learn more about our marketing services please contact Net-Craft.com today.