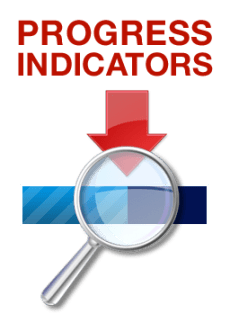 How to Use Progress Indicators to Create the Best Checkout Experience for Your Customers
The ecommerce industry is currently positioned to shatter previous records during the holidays this year. As the virtual shopping carts fill up, some merchants will reap the benefits of the seasonal buying frenzy while others won't see much benefit at all. The checkout process will play a significant role in which businesses end up enjoying a holiday boom, and the success of retailers has been correlated many times with the efficiency and flow of the checkout process.
Improving the Checkout Process
To make an impact in the competitive retail space, retailers must focus on improving certain elements of the shopping and checkout process for their customers. Since the checkout process is unique for each store, retailers should evaluate their data and utilize shopping cart best practices to optimize the shopping experience for their users.
Performing Market Research to Determine the Best Format for Checkout
Whether you use a single-page or multi-page checkout system, there is no definitive right or wrong way to design the purchasing process. Retailers should choose the system that results in the most conversions after extensive experimentation and testing. Perfecting your checkout system can dramatically improve the shopping experience for your customers and result in fewer abandoned shopping carts. If you choose to use a multi-page checkout system, it is imperative to include progress indicators so that customers are aware of how many pages they will need to complete to process their order.
The Advantages of Using Progress Indicators in the Checkout Process

In a multi-page checkout system, progress indicators help customers break down the payment process into small, simple steps. Progress indicators are often undervalued and widely underused, but they serve a critical purpose in improving conversions for ecommerce websites that use a multi-page checkout option. When retailers break down the checkout process into manageable steps for the customer, they are as likely to complete it as they would a single page checkout.
It is also important to consider your target market when evaluating whether a single-page or multi-page checkout process is the best option. For retailers selling luxury items or items targeted to customers who rarely shop online, a multi-page checkout process may be the best option. Providing a slower process may make the customer feel safer, as it allows them to double check their order before submitting payment.
Best Practices when Using Progress Indicators
When developing a progress indicator, there are a few best practices to keep in mind. A progress bar should indicate the number of steps in the checkout process and highlight the current page that the user is on in the checkout so that they are able to keep track of the number of steps left before their payment is submitted. A multi-page checkout process should also include a step that allows the customer to review the order.
During the checkout process, maintaining functionality is essential whether you choose a single-page or multi-page system. To make the process user-friendly, try to "carry" information as often as possible so that people don't need to enter the same information multiple times. Also, it is best to minimize distractions so that customers can focus on completing the transaction.
If you would like to learn more about our ecommerce services , please contact Net-Craft.com today.