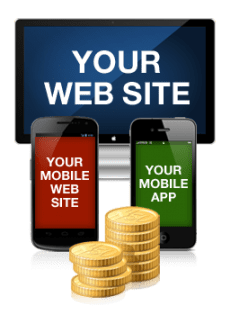 Does Your Business Need A Mobile App, a Mobile Web Site or Both?
In an era of web-based technologies, it is important to make an effort to keep your business visible to your customers on and offline. A business that has created a mobile friendly website gives customers that are on their mobile devices the opportunity to access a website designed specifically for that device. Creating a mobile app and/or a mobile website can give you a competitive advantage in your industry, especially if your customers are looking for the products and services that they need online. Since the number of smart phone users is rising, it is important for businesses to stay ahead of the game by ensuring their virtual assets are optimized for mobile devices.
What Does A Mobile App Do For A Business?
An iPhone or Android app allows your customers to interact with your brand and your products/services in a whole new way. An app also allows you to stay in touch with your loyal customers and provide information to them so that they can always stay up to date on what's going on within the company. Most consumers now have a mobile phone that they use to shop, look for businesses, and evaluate their options before making a purchasing decision. By catering to your clientele that will view your virtual presence from a mobile device, you can improve the customer experience. There are many types of apps that you can develop for your business, depending on your industry, so it is important to talk to a qualified Arizona app designer and Arizona app developer to discover what your company could be offering in terms of web-based apps to satisfy your customers.
What Does A Mobile Website Do For A Business?
A website that is only optimized for the desktop can leave much to be desired for mobile users. Often, standard websites do not format correctly on the phone and are very difficult to navigate and to read. In order to provide a better forum for mobile users browsing your website, designing a site that is compatible with mobile devices is essential. With a mobile website, you can ensure that your customers are able to access information about your company seamlessly at any time from wherever they are.
Does it Matter if Your Business has a Mobile App and Mobile Website?
For many businesses, creating a robust online presence is essential to success. Since the use of mobile devices is on the rise and is paced to overpower the number of desktop users in the future, it is important for consumer oriented businesses to establish a mobile friendly website and an app. To discuss the best options for your business, contact Net-Craft, an experienced, reputable Arizona web & app developer and request a free app or mobile development consultation.