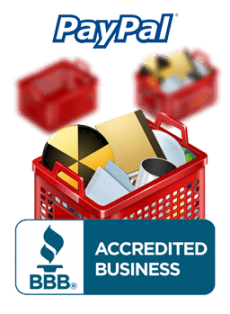 How to Reduce Shopping Cart Abandonment and Retarget those Customers
To a customer, the checkout process can make or break the sale. By creating a fast, seamless, stress-free checkout process, you can reduce shopping cart abandonment and encourage customers to complete the checkout. Reassuring the customer of the safety of their personal information is always an important factor. By displaying your certification and rating with the Better Business Bureau, security practices that you use, and offering a guest check out or PayPal option can help customers feel more comfortable buying from you, especially if they are a first time visitor to your website. Offering promotional deals or incentives at check out can help you encourage customers to complete the checkout and help to retain them as a repeat customer.
Enable a Guest Checkout Option or Allow Customers to Use PayPal
You want your customers to feel comfortable about how their credit card and personal information will be used, and a lot of shopping cart abandonment stems from the customers mistrusting the website or the payment methods available. By allowing them to use the guest check out option, they can quickly complete their purchase.
Enabling customers to check out without creating an account can speed up the checkout process, thus reducing the number of abandoned shopping carts that you have. You can still offer some customers that are interested in purchasing from your store on multiple occasions the option to register with your site to receive promotional offers, email updates, etc. You can also help customers feel more at ease with the buying process by offering PayPal as a payment option. Many people use PayPal for their online purchases because they feel the transaction is more secure, and it is also quick, user friendly, and convenient.
Offer Competitive Prices
With retail stores, there are the occasional impulse buyers, and then there are loyal shoppers. Many people shop around for the best price on a product they are looking for before they commit to a purchase. After customers have evaluated the initial price of the item, he or she may look at the shipping next to determine which store offers the most cost-effective alternative, so keep shipping costs as low as possible.
You can also offer a $10 discount coupon for registering at checkout or 10% off coupon for future purchases. This may encourage the customer to purchase from you rather than from a competitor. Discounts and deals can encourage repeat business and possibly word of mouth referrals to your store.
Design a Safe, User Friendly Check Out Process
One reason that people often abandon their shopping carts, especially online, is because the checkout process is too long and complicated. Online shoppers are often looking for convenience, which means that you need to deliver an exceptional checkout process that allows customers to check out within 1-2 minutes so that they are not deterred by the length or complexity of the process. If you would like to improve or update your shopping cart, contact an Arizona web developer or AZ web design firm to assist you.