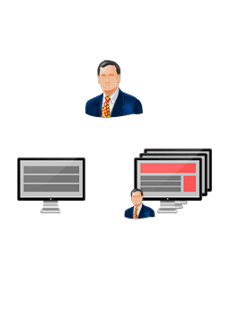 What is Remarketing and Should You be Using it?
Remarketing, in short, is a marketing technique that precisely targets users that have visited a website previously to help you reach those customers again and draw them back to your website to make a purchase. Remarketing is designed to make it easier for businesses to target consumers who have visited a website and expressed interest in the products or services the business sells through displaying relevant ads to encourage users to revisit the website to make a purchase. Remarketing is also commonly referred to as conversion marketing.
Precise Targeting of Ads to Previous Visitors with Remarketing
Remarketing allows you to laser target ads with a compelling message to people that have visited your website previously. By adding a remarketing tag to your website, you can collect a list of consumers that have visited the website before and then reach out to those consumers while they are browsing other websites to encourage them to convert in making a purchase.
Is Remarketing Right for Your Business?
Remarketing can help to drive sales, encourage repeat business, increase website traffic, and improve conversions. If you are looking for a way to get in touch with consumers that are interested in your products or services but have not made a purchasing decision, remarketing is a useful tool that will allow you to design ads to appeal to specifically that demographic of customers. Remarketing is simple to use and is ideal for businesses in a variety of industries. Remarketing is most commonly used in retail and publishing, but can also be used for any business that would like to attract repeat visitors or encourage visitors to make a buying decision.
Remarketing Strategies to Drive Growth
It is typically recommended that a company gathers all leads that have been to the website with a remarketing tag that will capture every incoming visitor. If a certain segment of your customers have viewed a specific product line or service, you can design a tailored message for those visitors. You can also showcase different product lines to different customers by using a category name when remarketing through Google.
Remarketing is a technique that is often very effective in helping companies drive consumers to take a specific action on their website. Most advertisers can utilize remarketing strategies to accelerate growth and drive more sales. Since consumers often must see an ad or marketing message several times before making a purchase, remarketing is an excellent way to laser target customers that are interested in the products or services that your business offers.
If you would like to implement or learn about how a PayPerClick remarketing campaign can benefit your internet marketing, please contact Net-Craft, an expert in pay per click search advertising.