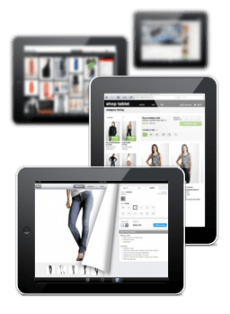 Optimizing eCommerce Websites for Tablet Shoppers
The number of shoppers visiting and purchasing from eCommerce stores on their tablet phone continues to climb every year, and the tablet is becoming the primary tool that many people use to browse and shop for products online. Optimizing your eCommerce website for tablet users can make all the difference now, as tablet shoppers are 38 times more likely to convert than the average shopper and their order sizes are 15% larger according to data collected from several merchants using MarketLive. Tablet users are also very likely to engage in pre-sale activity.
Creating a Tablet-Friendly Version of Your Website
1. Speedy Upload Times are a Must:
Tablet users expect upload times on their tablet to be just as fast if not faster than on a desktop.
2. Finger-Ready:
Make it Easy for Users to Swipe, Pinch, Zoom, and Select
3. Utilize Scrolling Content:
People use tablets to scroll through content, so make sure the content on your website is designed to scroll rather than move from side to side to view.
4. Make it Easy to Switch between Images by Swiping:
On a desktop, people normally click a button to switch images, but on a tablet, users expect to be able to swipe from side to side to switch the images rather than tapping a button.
5. Make the Buttons to Select a Product or Page Large, Bright, and Easy to Tap:
Making buttons large and bright will help users take the next action on your website.
6. Ensure Order Options are "Tap-Friendly":
Make it easy for users to take a desired action and purchase from your website by making your order form "tap-friendly."
7. Eliminate Hover Options and Flash Animation:
These features do not work well (or at all) with tablets.
8. Minimize the Amount of Typing Required to Complete a Transaction:
Users report that typing on a tablet is just as cumbersome as typing on a mobile phone so make it as easy as possible to finish the transaction by minimizing the amount of typing necessary.