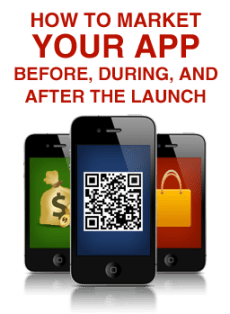 How to Market Your App Before, During, and After the Launch
Marketing your app should begin long before you launch, and you, the creator, are the very best person to market it. If you know you are building something great, you should want others to know too!
Start Building Buzz Early
Build buzz from the beginning by allowing others to follow your process through social media. Ask for suggestions and feedback, as this helps you identify potential problems and possible improvements for your app. Generate interest through your blog, Twitter and Facebook postings. Discuss your progress, ideas, goals and concerns related to the app. Doing this also lets you see if there is a need/strong demand for your particular app.
Create a Teaser Website and an Email List to Announce when Your App has Launched
Build a teaser website to create an email list of people that want to be notified when your app launches. When you have a set launch date, send out concentrated email blasts counting down the days until launch. Be sure to celebrate launch day with your email list! The day you guys have been waiting for is finally here!
Follow other successful app developers and ask for their advice. This will help you gain their respect and gives you professional insight at no cost.
Start Building Relationships Before Launch
Behind all companies are real people so begin building relationships with key people working at app marketing websites. When you build a relationship with these people, launching apps in the future becomes much easier; they have worked with you before and know the quality of work to expect from you. Building innovative, well-designed apps is vital in gaining the respect of the app industry. Make friends with people at every major venue that features apps, and getting your work featured on their site can be as simple as sending a direct message. Amazing things can happen when you start focusing on the people behind the company!
Uploading Your App to the App Store
In order to launch your app you'll have to upload it to an app store. You can create a developer account with Google and Apple by registering through their website and paying an annual fee. To get thousands of downloads; you will need to make an effort to get your app to "chart," in the app store. Once you are charted, other users will be able to find you easily because the charts are where most people look for apps. Prepare as much as possible for launch day. Glitches will occur, and you should be able to handle and correct any that arise.
Before launch day you should also craft a pitch to send out to journalists, bloggers and other members of the press to send out on the day your app launches. A positive review on an established website will bring even more attention to your app.
A key factor in successful apps is marketing; and marketing your app long before your launch date will make launching your app a success. Success begins with getting users to find and download your app, and when you have built anticipation for your app over the past few months .
Begin marketing as soon as you have your idea for an app.
Use social media to your advantage.
Design a teaser website to build an email list of prospective customers.
Build relationships with professionals in the app industry.
Send pitches for your app to journalists and bloggers.
Gain respect from customers and other professionals by building and selling quality apps.
If you would like to speak to one of our mobile app experts about iPhone or Android app development, please contact Net-Craft.com today for a free consultation.