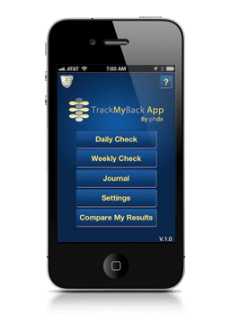 TrackMyBack app
An iPhone app we helped create has won an award for being one of the ten best new spine technologies for 2013.
The TrackMyBack app is a patient and physician tool to better engage and evaluate spine patients' health status pre- and post-treatment. The app utilizes the convenience of a smartphone to obtain continuous spine patient outcomes data with increased accuracy. By using an expansive spine patient outcomes database of over 15,000 patients and procedures, the app utilizes data modeling algorithms to set patient and physician expectations for how the patient's health may improve over time. In the future, management plans to add motion sensors and geolocation to further understand spine patients' functional status over time.
If you would like to discuss having a mobile app developed for your business, please contact Net-Craft.com today for a free consultation.