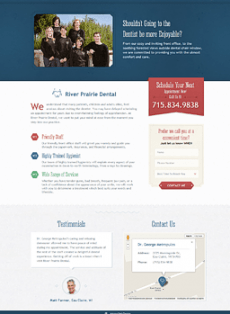 The Importance of Landing Pages
Landing pages on your website can be an extremely effective marketing tool that inevitably turns your prospects into customers. Companies that utilize landing pages see a 55% increase in leads when they increase their number of landing pages from 10 to 15.
The assumption that users want to linger on your home page to garner their initial information is wrong; they have already gained this information from other sources such as Facebook, Twitter and other marketing channels. They have done their research. They like what they see, and they want it. There is no reason to redirect these users to a home page that only further provides basic information about your company.
This is why your company needs to have several landing pages.
A landing page is a separate page on your website that turns your social media marketing or SEO marketing into a link that lands users on a page where they are prompted into the action that you want them to take. In other words, they are spending their money on your product/service.
Increasing conversions is the main goal of a landing page. You want to direct your prospect to becoming a customer with a simple click.
Visitors that access your site through Facebook will have a different experience than someone who came from Twitter; which is why you need to have landing pages catered to each of these users.
Consumers often gain their knowledge at a very fast pace through social media and search marketing. Prospects are interested in a company that can provide immediate benefits. They want their needs met immediately. Landing pages created by your marketing company or website designer can help meet sales goals through their efficiency and effectiveness.
A potential customer that sees your company through a social media site or a paid search result needs to be easily redirected to a landing page where they can promptly take the next desired action and be entered into your sales funnel or purchase your product directly.
Tips for Making Your Landing Pages Effective
Develop a consistent message throughout your entire marketing campaign including landing pages.
Have as many landing pages as you do ways for people to access information about your company online. Between 10-15 landing pages has proven to be extremely effective.
Repurpose old content on your website in a fresh way on your landing pages.
Explain your company in great detail while still strongly directing the customer to the action you want them to take.
If you'd like to learn more about our custom landing page development services, please contact Net-Craft.com today!