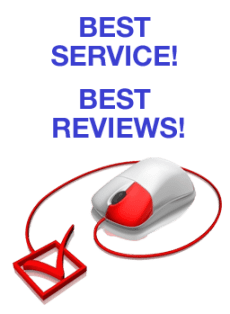 Top Tips for Encouraging Customers to Write Reviews
In the world of online commerce, a bevy of positive reviews can work wonders for your business, but how can you encourage happy customers to leave you glowing reviews on Yelp? Here are a few tips to help you get more customer reviews from your satisfied customers so you can drive more sales and traffic to your website.
Promote Your Presence on Yelp
PPromote your presence on Yelp in subtle, yet suggestive ways. Having signage in a high traffic location, such as a host greeting stand says "Hey! We value your opinion." Share your Yelp membership discreetly by placing signage on or in your ticket book. You can even display encouragement by placing signage at the checkout counter. Letting the customer know that you are on Yelp and are welcoming of reviews and check-ins encourages guests to share their experience with you to the entire online community.
Provide Incentives for Leaving Reviews
Incentives are a sure fire way to build lasting relationships. Offering incentives such as special check-in offers or limited time promotions on your Yelp page is a great tool for self-promotion. These techniques can help you earn more Yelp reviews and also increase the number of visitors to your website. Most people are up for any opportunity to save a penny. By offering specials on your Yelp account, you are creating business, possibly even the opportunity for repeat business.
Good Customer Service is Key
Good customer service equals great customer reviews. Providing excellent customer service is the backbone to any business. Building relationships with customers creates repeat business. Offering quality service with quality products can really warm a person's toes. Treating your customers as you want to be treated can only result with a pool of positivity. You never know who is going to visit your business, and practicing good customer service just may land you a seasoned Yelper. Having a seasoned Yelp reviewer leave uplifting comments on your Yelp account can only help you. First time Yelpers trust seasoned Yelper's opinion over a first time experience any day.
If you'd like to learn more about our social media and internet marketing services, please contact Net-Craft.com today!