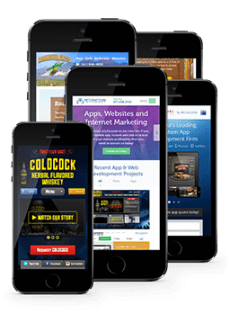 Why Your Company Needs to Join the App Revolution
With technology advancing at a rapid pace, most people in this day and age have the capability to access a site directly from their smartphone or tablet. We have entered the generation of convenience. Having a mobile app for your business allows you to offer that convenience right in the palm of each and every potential customer's hand. Having an app allows you to have your full site scaled down and optimized into a pocket sized replica that buyers can keep on their person. Why wouldn't you want a miniature version of your online business directly at their fingertips and just a few clicks away?
Apps Are Beneficial and Super Convenient for Online Shoppers
Mobile apps promote impulse buying. Cellphones and tablets of all forms are Internet accessible. Any internet-accessible handheld device is perfect for browsing on the go. Having a mobile app available to users, whether first time buyers or repeat customers, enables customers to browse your product anytime from anywhere.
Have An App Created Specifically For You
One of the most important steps is to have your budget in place. Creating a budget will help you decide if you need to redirect your mobile app layout by adding more or taking away. You can always start small and build more later on by allowing your app to be programmed for upgrades. As your company grows, products are added, and your revenue and sales will spike offering you more money to put into your mobile app and, in turn, more money in your pocket. Be sure to know your key points for developmental structure and the demographics of the clientele you want to attract before seeking professional assistance with creating your app.
Decide If An App Is Right For You
A company is never too small nor too big to create a mobile app. Whether you are a small scaled business offering directly unique products that customers cannot purchase elsewhere or if you are a fortune 500 enterprise, such as Amazon, offering millions of unique products, app development can help you create a seamless user experience and buying process for your customers. If you are looking to improve sales and create strong customer relationships, then a mobile app is right for you.
If you'd like to learn more about our custom mobile app development services, please contact Net-Craft.com today!