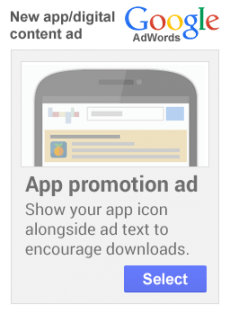 Follow the Leader
Google Travels Same Path as Facebook and Twitter with New and Improved App-Install Ads
Over the past two and a half years, Facebook has successfully boosted their profits by using app-install ads, although they haven't released the figures yet. Twitter was quick to follow, and now Google is tagging along by further improving the quality of their app- install ads. Google has also added these app-install ads to YouTube.
Understanding App-Install Ads
A brief explanation of the process of an app-install ad is that they are similar to Google Adwords remarketing ads except they appear when a user downloads an app. Remarketing is a useful tool as it works as a friendly reminder for users of websites they have previously visited to encourage them to return and make a purchase. The app-install ad is remotely within the same family except its home is inside an app and is reflective of your app purchase history allowing advertisers to target users that have purchased similar apps in the past. This also allows businesses to target users that have downloaded apps that are related to the app they offer. For example, a person that downloads a photo editing app may see an ad for an app that features a variety of photo filters.
Improved App-Install Ad Functionality in Google
Google didn't stop there; they are also offering app developers and advertisers the functionality to target users that have already downloaded an app from them in the past. Deep linking technology allows a user that has previously downloaded an app to be able to travel within the app to explore features they may not have known existed before. By utilizing deep links and app-install ads, a developer can make a more resounding impact and drive more app downloads.
If you would like to speak to a Net-Craft consultant about advertising your mobile app, please contact-us today.