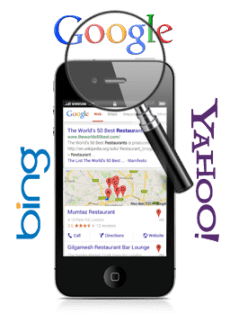 Why You Need to Focus Your SEO on Mobile
Mobile usage continues to increase at rapid rates, but many SEOs are still neglecting this important source of traffic. The typical SEO campaign will put all its initial efforts on desktop searches before even considering mobile optimization. This backwards thinking often results in a poor mobile experience that drives your customers away. With more and more internet usage taking place on mobile devices, the time to shift the focus is now.
Why Mobile is Important
According to Google's reports, mobile search traffic may exceed desktop searches before the end of 2014. If you aren't optimizing your websites for mobile, then you are potentially missing out on half of your customers. Unlike a desktop computer, a mobile device can be used anywhere and at anytime. Mobile users are spending more time reading, researching, and purchasing than ever before. Even if you don't think your customers will ultimately buy your products using their mobile devices, this may be where they start their search.
Optimize for Users, Not Just Search Engines
Mobile optimization isn't just about trying to rank in the search engines. It's about creating a complete user experience on a mobile device. Whether you choose a mobile app, a responsive design, or a mobile website, it's essential to serve your customers a site that gives them a smooth experience on their mobile devices.
Even if you are getting mobile traffic already, your job isn't necessarily done. It's essential to look at what your mobile users are doing on your site. If your mobile bounce rate is high, then you need to determine the cause of the problem. Many websites experience poor mobile performance because of navigation issues or slow load times. Optimizing your site for mobile requires a different set of techniques than optimizing for desktop.
Rather than putting desktop first, you should think about the experience you want to serve to your users. Once you know what your users are supposed to do, then you need to create that experience across all devices. Put your ultimate goals first and be willing to sacrifice elements that aren't necessary for conversion. When you think mobile, you need to think about the most convenient experience possible.
Please contact Net-Craft.com to discuss starting or improving your mobile organic SEO strategy.