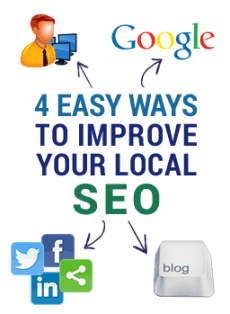 4 Easy Ways to Improve Your Local SEO
Ranking well on the search engines can make a significant difference for businesses of all sizes since it has become so common for people to peruse the Internet to find everything they need from a local dry cleaner to all of the items on their child's Christmas wish list. Optimizing your website for search can result in long-term gains, as once you have established the rankings you will be able to benefit from the increased traffic long-term instead of paying for each visitor to your site as you would do with a pay per click Google Adwords campaign. Following are a few simple ways to improve your local SEO and to gain better rankings on the search engines.
1. Reach out to Colleagues or Other Professionals in Your Area for Links
Networking is important for a multitude of reasons and one of those reasons is that you can reach out to your work colleagues or other area professionals to ask for links and citations. These links and citations are very important to your overall rankings, as it contributes to one of the two main factors that the algorithms use to rank websites – relevance and popularity. Getting new links to your websites improves your site's popularity in the eyes of the search engines, which over time leads to better rankings.
2. Claim Your Business's Google Local Listing
An up-to-date and complete listing on Google is extremely important to helping you maintain good rankings. Your Google listing will typically come up first for your branded search, and it may even come up for relevant industry search terms. Include your business name, address, phone number, operating hours, and any other important contact information in your profile, and update the profile with photos and a description of your business to complete the listing.
3. Start Blogging and Don't Stop
Open a blog on your website and update it with fresh content regularly. A monthly editorial schedule will help you stay on track and provide the information that your customers need to make a buying decision. You can also hire outside copywriters if you find it difficult to maintain the editorial schedule in house, as there are a plethora of good writers that can help populate your website with compelling and insightful content.
4. Share Your Content on Social Media and Everywhere Else
The great thing about social media is that it gives you the opportunity to share all of your company's great content with your potential customers. Share your content widely and share it often. Make sure that your content is getting seen by the people who matter most – your customers – by designing a social promotion strategy. You can do this by promoting to your existing audience and compelling them to share and/or by purchasing advertising on social media to promote your posts to people in your target demographic. In addition, include your blog posts and informational articles in your email newsletters or any other publications that will be seen by your target audience.
Are you ready to have a free consultation to discuss your company's local SEO rankings? Please contact us today!