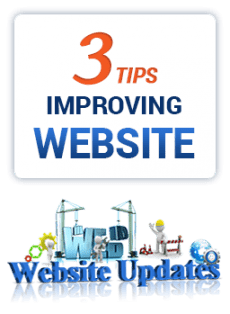 Improve Your Website in 3 Easy Steps
Below are three helpful steps on how you can positively impact your website whether short term or long term. These effectively easy and safe tips can be done by yourself or by approaching a web developer to have done for you.
1. Update Your Website Often
Try to remember the last time you updated your website either by adding new content, updating the design, or other changes that might interest your customers. If you haven't updated your website in a while, then now is the perfect time to do just that. Bring your website up to speed by tuning it up daily or weekly. Keeping your website up to date will help you generate better results long term. Keep your content optimized by checking that your links are correctly routed and are not broken as well as rotating out photos to keep repeat visitors engaged. Adding a blog to your website will help improve Google results, as you would be continually adding new, fresh content.
2. Be Searchable
Allow yourself to be easily recognized and searched for by adding your contact information in as many places as you can, such as local directories or other relevant places where potential customers may be looking for businesses like yours. Google + is a great opportunity to rack up additional search benefits and provide a full contact listing for your organization. Claim your business listing and keep the information current. This will prevent customers from being misinformed of your services. Be sure that your contact information is easy to see on any page of your website, and make your contact page easily accessible from your main navigation panel.
3. Network for Your Business
Get involved in your community at local business after hours events and use this as an opportunity to pass out your business cards and gain exposure to your business. Promote others you do business with by doing a business card swap. Keep track of their business cards and promote them, and they will do the same for you. Keep any and all social media platforms up to date and try to move content around to keep your pages active and visible to your followers and friends.
Contact Net-Craft for a free consultation and learn how we can help you improve your web site.