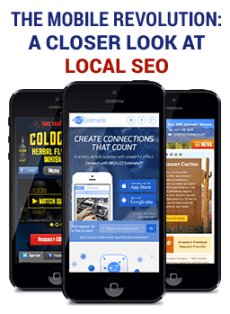 The Mobile Revolution: A Closer Look at Local SEO
Google has surpassed all expectations within the search engine world. Who knew that just a mere 15 years ago, Google was nothing but a basic directory catalogue for websites. Now, inquiring minds can simply type the first few letters of their intended search and are immediately prompted with several options to select from. These selections are based off of past searches, collaborative, relative searches from millions of searchers around the globe. The google search is quite thoughtful; they always include a progressive amount of local searches in conjunction with other results.
Google has recently announced that they are moving in a new direction in which they are going to sway more towards mobile friendly sites. This has been long awaited for many users. A conducted study back in 2012 laid out the cold hard facts – over 40 percent of local based inquiries were in fact made from a mobile device. If you sit there and crunch a few numbers and realize that is is currently 2016, you will come to the conclusion that this percent has had nowhere to go but up. Google actually does the hard work for you by performing around 600 algorithmic changes per 12 months. Some changes may appear moot by your standards, however some changes are more electrifying, in turn affecting local SEO foundations.
Taking a closer look at the always useful program, Google My Business, and its evolution from then to now. It was originally created and known as Google Places. Google Places was then a part of the Google + program. Google + branched into Google+ Local Business in 2012. Recently, we have been given "Google My Business" which is a handy technological tool belt with all the bells and whistles. With Google My Business you can stay on top of things such as: photos, landscaping and even read reviews. When pairing this tool with local SEO use, you have the capability of managing visibility and rankings. Within this mighty tool belt is Google Analytics. Google Analytics allows you to better manage your marketing campaigns in a snap. Google My Business also has notifications so you can always stay on top of your most recent reviews. Pair this up with AdWords Express, and you will be unstoppable!
Please contact Net-Craft.com today for a free mobile web site consultation.