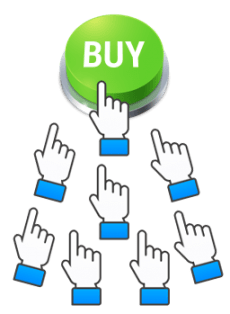 Create More E-Commerce Traffic With These Helpful Tips
E-Commerce businesses are entering an expansion period that is leading to a profound new growth in the retail landscape. This new change in demand is completely restructuring the way E-Commerce business practice.
The one thing that stands out to us is "how do we create more traffic?". A lack of traffic would result in zero sales for many companies. You can create an E-Commerce store in a matter of a few short minutes, but you must strategize and evolve the site into a money maker. E-Commerce businesses are not a brick and mortar store where consumers can simply enter, touch and inspect the merchandise at hand. You must utilize logistical operations, effective web design, prime customer service as well as communication strategies and product pricing strategies and incorporate them in the right way to achieve success.
1. Social Media is the Digital "Man's Best Friend"
The utilization of social media platforms is crucial to get the word out to consumers during their everyday page scrolling. Using the powers of social media platforms such as Facebook and Instagram can work wonders when trying to accumulate traffic to your E-Commerce site. You can try to run a few campaigns or contests to get the word out about your brand. Use the proper hashtags and links to bring traffic your way.
If you follow industry best practices, you can create a decently sized following of consumers who like, want to use, or have already used your brand. Try using user-generated photos as testimonials of your brand to show other consumers that people love your brand and to demonstrate social proof or your business's value. Using user-generated photos to circulate shows potential customers are happy with your brand and/or products and that they too can easily enjoy them with the click of a button. Facebook has the capability to offer remarketing strategies similar to Adwords. By putting effort into social media, you are sure to gain more traffic to your E-Commerce site in no time.
2. Create and Develop Relationships with Customers
If you want to know how well your business is doing, one way is to directly ask your customers for their opinions on your brand. Your customer base is also your proven fan base and is seen as a vital attribute to the success of your company. Make connections with your customers and build trusting relationships. Creating relationships with them will allow you to improve customer retention and recurring retail sales.
An effective way of reaching out and creating relationships with your customers and potential customers is to try your hand at email marketing. Email marketing is a quick, easy and affordable marketing technique. According to a recent poll, email has the potential ROI of about 4,300 percent. Around 70 percent of people use retail coupons or discounts found within their email. About 60 percent of people subscribe to email lists because they wish to hear more and be notified when special offers are available for brands they love. Around 80 percent of people receive marketing emails in their personal email inbox in addition to their personal messages. These statistics prove that email marketing does work. Another helpful tool you can use to get the word out is infographics. Infographics receive a large amount of shares which promotes a larger viewing audience.
3. Create Better SEO Optimization
You can maximize your sales, leads, and site traffic organically by using proper SEO strategies. E-Commerce sites face different types of challenges compared to other websites. However, with the proper use of SEO, your E-Commerce site can be better represented and offer a helpful hand when it comes to generating more traffic to your site. For great results, the following practices are recommended: quick page loading time, an integration of useful social platforms, user-friendly site navigation, articulate and unique product descriptions, user-generated reviews and link building campaigns to name a few.
4. Cart Abandonment Issues
Cart abandonment is one of the biggest problems in the world of E-commerce. BI Intelligence shared data showing that nearly 74 percent of online shopping carts were left without intent to purchase by shoppers in year 2013. Consider using a special offer to sway customers from abandoning their shopping cart. These special offers are triggered by an exit-intent technology. For example, when a customer is attempting to abandon their cart, an offer can be presented offering free shipping on their purchase if the action is completed. Another helpful and quirky way to encourage customers to follow through with an order is to send them an email reminder of their shopping cart items encouraging them to complete their purchase.
5. Have a Quick and Easy Checkout Process
Keeping the process of checking out simple is a sure way to have customers complete their purchases. Break the checkout process into a few quick and easy steps. A simple checkout process helps break up the information requests and in turn allows the process to feel smooth and uncomplicated. Offer several payment options and don't require that customers create an account. No attachments, no strings, just an easy guest check out of sorts. Try to always provide your guest with the knowledge that your site is secure and protective of their information.
Offer your E-Commerce store the opportunity to thrive. Give your site more credibility through SEO and make your brand known on social platforms to promote more targeted traffic.
If you would like to schedule your free eCommerce development consultation, please contact-us today.