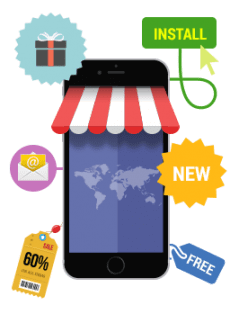 3 Things Integrated App Analytics & Marketing Help You Achieve
Grow your app and provide value to your users by choosing the right analytics software and marketing platform. User acquisition strategies offer a larger ROI and success rate compared to point solutions, which impair tracking of your marketing campaigns and prevent you from handling large issues like churn rates and user abandonment.
It is important to learn the differences between Disparate App Marketing (DAM) solutions and Integrated App Marketing (IAM) solutions. Take a look at a few insights:
1. Personalized App Marketing
Acquire new app users and provide an exceptional user experience with personalized app marketing. App marketing helps to achieve a higher open rate through via targeted push notifications and also increases your conversion rate.
2. Remarketing to Outside Users
Upsell existing customers using remarketing to target potential customers who are indecisive. Remarking uses targeted ads outside of your app to recapture potential customers and drive traffic back to your app. Personalized ads help to increase conversions by examining each customer's profile data and in-app behavior.
3. User Attribution: Sophisticated
Competition in the App Store is tough now that there are so many apps available for customers to choose from. A user acquisition plan reaches potential users outside of the app, elevating your marketing to a new level and capturing those customers you may have otherwise lost. These customers show the highest lifetime value, and creating a user acquisition strategy can provide you with a successful campaign.
If you would like to learn about Net-Craft.com and our mobile app marketing services, please contact-us today.