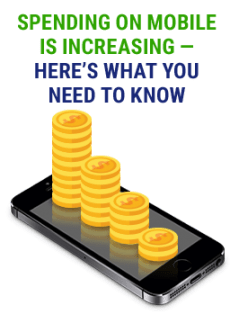 Spending On Mobile Is Increasing—Here's What Your Need To Know
People are spending more time on mobile than ever before, and, according to Forbes, marketers are reporting an increase in mobile marketing to 15.6% over the next three years, up from 6%. These figures suggest that mobile marketing is not only continuing to grow, it's growing at an alarming rate, so it's time for marketers and businesses to take note, invest, and improve their apps in the process.
The Growth of Apps
Mobile website and mobile app development is flourishing and mobile use in increasing year over year, surging past desktop use. In fact, according to the comScore 2015 U.S. Mobile App Report, apps represent 54% of the total digital media activity. That's a staggering number considering the short time app marketplaces have been around, and it's a testament to the expanding reach of digital media on smartphones and tablets.
Investment in Mobile Is Key
Understanding mobile app analytics gives you a huge leg up on your competitors by teaching you how your customers are responding to your apps. Many marketers are reluctant to invest in mobile despite evidence that mobile is increasing each year. Those who refuse to adopt a mobile strategy are missing a significant size of the market. Mobile ad budgets are increasing internationally to take advantage of this trend, gaining a budding group of loyal customers straight from their mobile devices.
Cross-Channel Marketing Is the Answer
Campaign analytics alone cannot provide a complete picture of how customers are responding to your marketing efforts. In order to understand your customers completely, and given the rise of mobile marketing, you must embrace cross-channel marketing for a total picture of your campaign success. By building your campaign around these valuable mobile analytics you can discern what makes your users tick and build mobile campaigns which enhance the value of your applications. Confidence is key when you are working with apps and marketing them to potential users, and mobile analytics is a surefire method for increasing your user base.
At Net-Craft, we build mobile apps for the iPhone and Android platforms. We also build mobile websites that give your users clarity and ease-of-use when browsing your website from their smartphones. Please contact us if you would like to schedule a free consultation to discuss your mobile development needs.