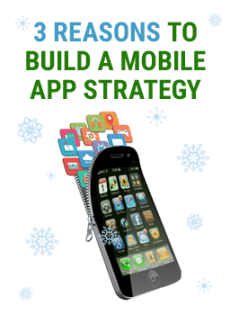 Three Reasons to Build a Mobile App Strategy
Does your company branding consist of a mobile strategy? If not, you are doing a disservice to your customers and falling behind in the marketing race. Why are apps so important to your mobile strategy, you ask? Mobile apps have increased in use over the last decade, becoming a vastly superior marketing platform to find new customers. Below, we'll discuss some of the reasons why you should invest in a mobile app strategy and why mobile apps have become so important.
1. Customers Want Apps
Commerce has transformed into personalized shopping. Users are now accustomed to a standard, across platforms, for experiencing content on a personal level, and that includes mobile applications. Now, customers are used to tailoring their apps to their lifestyle, including their location and their preferences. Tailoring your application to the customer leads to a better experience for the user and a higher ROI for you.
2. UX Design Is Increasingly Important
How customers interact with your applications is of the utmost importance; that's why a focus on the user experience, and ux design, has increased in popularity. Complex websites and complicated apps are a things of the past. Users want to experience an application that is easy to use and leaves them stress-free after use. By eliminating any irritation on the customer's part during their interaction with your product, you increase your chances of making a sale by ten-fold.
3. Mobile Apps Are the Future
After smartphones became less of a tool for phone calls and more of a consumption device, marketers began to take notice. You can now easily put yourself in front of countless customers who are ready to buy, if you have the right mobile app strategy, that is. Desktop use has plateaued, allowing for mobile apps to surpass them as the preferred method for customers to interact with brands. That's why now is the best time to invest in a mobile strategy, to capture these thousands of potential customers and prevent your marketing strategy from flat lining.
If you'd like to discuss the creation of a mobile app for your company, please contact Net-Craft.com today for a free app development consultation.