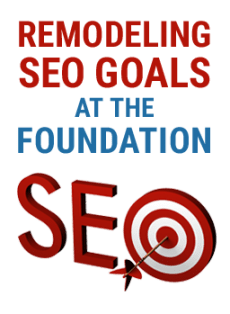 Remodeling SEO Goals at the Foundation
Search engine optimization is one of the most influential ways to direct website traffic to a particular location. The benefits of SEO are undeniable. Digital enterprises are now seeking instantaneous results. They are taking a critical approach to achieve greater revenue.
A sense of urgency is valuable and productive in the business world. However, seeking immediate success is typically impossible. Therefore, it is crucial to see the process from start to finish to ensure its success. Patience is necessary for achieving maximum search engine optimization results. SEO should be treated as a long-term goal.
The emphasis on SEO success should focus on the process rather than the results. Why? When the process has a sturdy foundation, the remaining pieces will fall into place. Your brand will begin to optimize the search engine by appearing higher in search results. Instead of relying heavily on metrics, the process will guide you to elevated positions in search engines over time. Your long-term success will stem from the well-built process you have set for your SEO initiative. Progress driven goals, rather than result specific goals, are essential to the success of your SEO expectations.
It is important when setting goals for your brand to align them with realistic expectations. If your brand is small, it will be harder to compete with massive brands that maintain a strong online presence. However, if you set your SEO goals to be practical for your brand, you will see the results you desire.
Please contact-us today for a free internet marketing analysis and consultation.