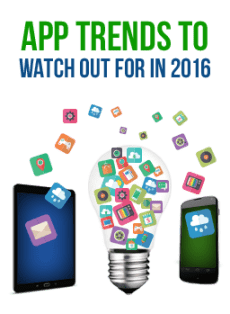 App Trends to Watch Out for in 2016
Mobile has exploded over the past few years, and 2016 is forecasted to be no different. App marketing and mobile use is growing, and, according to Forrester, this year companies are projected to turn increasingly to mobile not just as a channel for marketing but as an integral aspect of their overall strategy. That's exciting news for app marketing, and it's just one of many trends expected to emerge in 2016.
1. Apps on Your Wrist
The smartwatch market carved out a sizable niche this past year with the release of several new Android watches and the arrival of the Apple Watch. App developers are flocking to smartwatch operating systems like WatchOS to bring their apps to a completely new market for a chance to capture potential customers from not only their phone but now their wrists. Since the wearable market is in its infancy, there's plenty of room for exploration for app developers to see how customers are interacting with their apps.
2. A New Way to Reach Customers Through Remarketing
According to Localytics, in 2015 "48% of people have disabled push alerts," which is why businesses are searching for new and improved ways of reaching customers outside of the initial app download. Remarketing is one-way app developers are reaching more customers, and it appears to be much more effective than personalized email or push alerts. In fact, Localytics reports that "90% of marketers have vouched for the effectiveness of remarketing," a staggering number that suggests app marketing is turning to nuanced, natural integration of their ads to reach customers instead of increasingly ineffective, in-your-face marketing like push alerts.
3. A Focus On Mobile Security
2016 is turning out to be the year of mobile security, and with battles raging on Capital Hill about mobile encryption, customers are expected to become more invested in the security, or lack thereof, of their personal information on their mobile devices. Some experts suggest that customers will be more willing to pay for secure apps and prefer to download apps they consider "safe." One thing is for sure, mobile security is a subject of contention among developers, customers, and law enforcement, and it will play a role in app development throughout the year.
Net-Craft.com offers a variety of app development and marketing services for small to medium sized businesses. Please contact us today to schedule your free consultation.