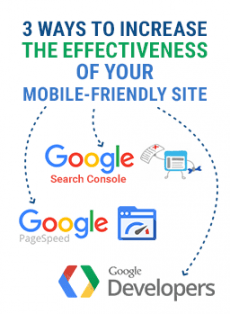 3 Ways to Increase the Effectiveness of Your Mobile-Friendly Site
In mid-2015, Google announced that those with a mobile-friendly site would reap the rewards of their newest algorithm shift with higher rankings in the search engines. A year later, there are still many sites who are, regrettably, not mobile-friendly, but for those that are, what is the next step, and how can you improve upon your mobile-friendly site? You can take advantage of these tips to drive more traffic to your mobile sites and mobile applications, helping to improve the user experience.
1. Index Your App for More Customers
App indexing makes it possible for Google to crawl certain areas of your app and return those results in search, meaning your app can rank for search terms, and users will be directed to your app directly when they click on these results. This is a big game-changer for mobile marketers, and can help grow your mobile customer base.
2. Monitor Mobile Usability
Now that your site is mobile, there's no need to worry, right? Wrong. Just like on desktop, issues can arise in your mobile-friendly layout. That's where tools like Google's "Mobile Usability Tool" come in. Make it a habit to check your mobile usability through Search Console on a regular basis to fix any issues with your mobile site, especially if you are making design changes to your website.
3. Avoid Commons Stakes That Demote Your Site
Many development mistakes can ruin the mobile experience for your website's users, and although your site may be technically "mobile-friendly," your goal should be to make the user experience as pleasant as possible. Common mistakes to look out for include unplayable content (video which is improperly linked or video that stutters or creates errors), overloading your mobile site with text (be concise), and snail-like page speeds (optimize your images or use Google's Page Speed Tool to optimize speeds). Avoiding these common mistakes helps your site rank higher and creates a pleasant user experience–this is what Google wants.
Please contact-us today for a free review of your mobile development strategy.