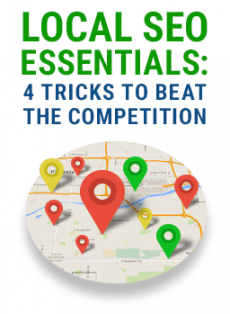 Local SEO Essentials: 4 Tricks To Beat The Competition
1. Fill Out "Google My Business" Completely
The big kahuna in local SEO is Google My Business (GMB), Google's umbrella term for its master dashboard for businesses. You can manage your free business listing, access your Adwords Express account, and manage parts of your Google+ page. Many businesses fill out the essential information, verify their account, and don't revisit it again. This is where the first trick comes into play: Google gives priority to profiles which are filled out completely. When you are creating your profile, make sure that every section has information, so you can ensure that your profile is optimized for search, which will help with your local search rankings.
2. Don't Forget to Optimize Images
Often, businesses don't know the power of images, and how optimizing them can boost their results. Optimizing image data helps search engines like Google assign priority and create context for people who are searching for specific terms. One way to optimize image data for local search is through–you guessed it!–your Google My Business Page. When you add images to your listing, take notice of the keywords section. This is where you will input keywords related to the image and your business. Make sure all of your images have keywords so you know your listing is optimized and ready to crawl for the best placement.
3. Funnel Reviews To Boost Rankings
Positive reviews are a large part of your local search ranking. Google takes positive and negative reviews into consideration when determining the placement of local results, so the better the reviews, the better your chance to rank higher. Many black hat SEO companies sell fake reviews to boost your rankings, but Google knows how to weed these out, and, eventually, your profile could even be removed for using such tactics. Instead, create a funnel to bring positive reviews to your business listing. One example would be to ask your customers to review your page with a small banner or maybe some text on an order confirmation page. The object it to capture these customers who are brand ambassadors for your company.
If you would like to speak to a marketing representative for a free consultation, please contact us today.