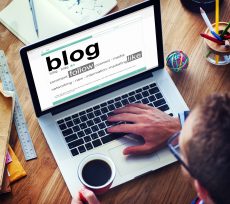 How to Build Your Own WordPress Blog for Your Business
With all of the focus on social media these days, some people believe blogs have become obsolete. Quite the opposite — blogs were one of the very first forms of social media, and they're still essential to communication and effective internet marketing. Blogging is a great way of posting announcements, articles, how-tos, and so many more things that can help your business and provide your customers with important and useful information. Fortunately, blogging today has never been easier thanks to WordPress, a content management system (CMS). WordPress is designed to be quick and easy, although it also has many advanced features you can make use of once you're familiar with the basics. This guide will walk you through the steps needed to create your own WordPress blog.
What Do You Need?
To start your WordPress blog, you'll need two things:
A domain name
A web hosting account
Setting up a new WordPress blog can be done in an hour or two, depending on how computer-savvy you are. Nothing is too complicated.
Setting Up Your Blog
WordPress comes in two different forms, free and premium. It's recommended that you try the free version first just to get your feet wet and to decide if WordPress is the right CMS for you. The free version does have a wide variety of different themes and plugins, so you're not really losing any functionality at all.
If you haven't registered your domain name, you'll need to do that first. Domain names can be registered for as little as $15 a year, so this isn't something you need a large budget for.
Next, you need to purchase a web hosting account if you don't have your own server. Some new businesses do not, while other established companies do. This tutorial provides instructions for installing WordPress on a host server, not your own. Basic web hosting is a low cost item, although hosting with more storage and other advanced features will be more expensive. You can often save money by paying for several months or a years' worth of hosting at once.
Install WordPress
Many web hosts already have WordPress prepared for installation. You just need to log into your hosting service and click on the install button. If your host doesn't, you can go to the C-Panel hosting site and quickly install it. You don't have to select a theme or layout at this point, though you might be prompted to. Once WordPress is installed, you'll be provided with the basic admin login and password. You can then log in and view the WordPress dashboard.
Selecting Your Theme
Now you're ready to select a theme, which is your blog's visual appearance and layout. Your blog will originally be set to the default theme. There are thousands of free themes available online as well as some premium themes out there. Some of these themes are designed for specific industries or focus on certain things, so you'll want to find one that fits your business.
To install new themes, go to the theme menu and click "add new." Choose the theme you want, install it, and activate it. You can customize most themes in a number of ways.
Publish a Post
If you click "add new" under posts, you'll go to the text editor. Here, you can type up your first post, format it, add media, and then click on "Publish." That's it — you've published your first blog!
Plugins
Plugins allow you to add new features, change existing elements, create an online shop, and much more. There are thousands of plugins out there for free. A quick online search can help you find the best plugins for your blog.
Design Tips
Here are a few things to keep in mind when working on the design of your blog:
Your theme should fit your niche.
Premium themes can cost as much as $200, but they can be much more customizable than free themes.
Free themes can be great, but remember, many other blogs out there may be using the very same theme. You might not look as unique as you want to.
Two great WordPress theme sites are colorlib and codexcoder.
Make sure you have your company logo on your blog, preferably on the header so that it appears on every page.
Make your design user-friendly. The look of your blog shouldn't be so cluttered or overwhelming that the visitor can't easily read your posts.
Remember, you can change your blog's theme whenever you want!
If you would like to speak to a Net-Craft.com representative to learn how we can help you start blogging and reaching new customers please contact-us today for a free estimate.