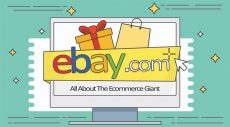 eBay – Another Way to Make It in the Ecommerce World
By now, we are all aware of the importance of electronic commerce. The online marketplace is irreplaceable when it comes to exposure and building a name for your brand.What Pierre Omidyar, the founder of eBay, has been doing since 1995, is now a must for any small or big retailer.
eBay, the most reliable online marketplace, offers both its sellers and buyers a safe environment that meets their requirements.
Buyers are amazed by the variety of stock it offers, the flat rate shipping, the eBay tools for promotion they can't afford to miss out on, and the value for their money. Sellers have a secure way to distribute their merchandise and make more money than an actual store would make
eBay is the 6th most popular website in the USA, and its 12.6 thousand employees are constantly working to improve the shopping experience.
Companies like Disney and Dell Computers use eBay to sell their products and reach new audience.
Amidst the electronic commerce wave, your business can easily get forgotten. This is the best time to launch your brand online, and what's more, eBay can help you do it.
The beauty of using eBay as your storefront is that you choose how to present your merchandise. Take beautiful, professional photos, keep the descriptions short and useful. A great way to connect with the shoppers is to include a personal detail about the product you sell.
Shoppers today are eager to get their hands on products as soon as possible, so eBay allows you to add 'Buy It Now' button, meaning that bidding is not necessary. Similarly, with the 2012 Global Shipping Program, this marketer lets you connect with shoppers from all over the world.
Most importantly, shoppers leave positive reviews and comments which help you to build your reputations as a high-quality brand. More people get to find out about you and recommend you to their loved ones.
eBay gives you an exceptional opportunity to reach new customers, grow your brand and boost sales.