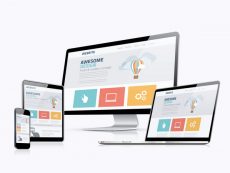 What Visitors Want More of From Your Website
The best way to ensure your target audience gets exactly what they want is to place yourself in your site visitor's shoes. While it may be simple to figure out the basics about your average site visitor, it is a more complex task understanding what individual consumers want from your website. Luckily, there are a few key factors that you can study to help you understand.
1. Exceptional Navigation
Online shoppers are capricious individuals who will quickly leave your site and head on over to one of your competitor's sites. Approximately 21 percent of online shoppers admit they will abandon a cart on a site due to bad navigation or site design. While there are other elements that make them leave a website quicker, like poor return policy or having to pay for shipping, 21 percent is a good amount and can significantly reduce your overall profits.
Consider the web design for Winestyr. This site uses a traditional approach, with a very natural and intuitive navigation for their visitors, even those accessing it via mobile. They have a very simple shopping cart that lists what is in your cart, and the location to insert a discount code or gift card is easy to find and located in a box that is highlighted. Winestyr checkout button is big and simple to find, and the navigation is the identical across the top of each page on the website.
2. Well-Defined Benefits
What benefits do consumers obtain purchasing your product/service over the competitors? You must show your visitors the benefit of buying from you. Your service or product may not be unique; however, your company is different from all the others out there. It is important that you explain to your customers the reasons you are unique, and how those features benefit them, as the consumer.
Consider Cliffside Industries for example. They offer consumers a page to better understand the uniqueness of their hardware products by providing them with tips on how to properly care for zinc, bronze, and solid brass items. Cliffside Industries also explains their warranty and what you should and shouldn't do with the substances their products are created with.
3. Clear Structure
If you are like most others, you have experienced being unsure of what to do next after arriving on a website. Either the site lacked information or navigation or it was too busy. Overall user experience and how consumers vision your brand is significantly impacted by this. Most likely, you quickly left that site just as others will too. It is important to have a clear structure to your site so visitors know what to do from the second they arrive on your webpage until they check out their items.
4. Fast Loading Time
In this busy, instant gratification world of today, the human attention span is getting shorter. In fact, the average attention span was 12 seconds in 2008 and now it is down to only 8 seconds. Rather than shopping on your site, if it takes too long to load, your visitor will most definitely find something else to do or somewhere else to go. There are numerous ways of ensuring your site loads as quick, including keeping the design simple, optimizing images, and investing in better website servers.
5. Working Logo
Today's consumers expect a brands logo to also act as a link back to the homepage of the brand's website. Visitors can easily land on your website while searching for any number of subjects. The majority of consumers know they can easily click on the logo and use it as a home button. Approximately 36 percent of visitors who land on a website through a referral website, use the company's logo to go back to the homepage. This means that you risk losing site visitors if your logo is not a hotspot. This also reduces user experience and number of clicks.
6. Complete Contact Information
Consumers want to know who exactly is behind a website. This provides a level of trust that would not be there if the owner of the company chose to remain anonymous. In fact, approximately 51 percent of visitor's state that contact information is one of the most significant factors on a website. It is important to be transparent by listing the names of the key people in your company and offer several ways consumers can contact customer service.
Take House of Frasier for example. This U.K. based clothing retailer not only explains what it is about and who it is, but it also provides a contact page with many ways to get in touch, including an actual address, telephone number, as well as an email or live chat option. Consumers feel confident making purchases through this site knowing that any time they want to get in touch with this company, they can.
7. Useful Content
The chief reason a visitor comes to a website is for the content provided and to gather information. While the way content is being served is changing, with more visual graphics and videos, people still want to learn. Users want in-depth descriptions and reviews from your site. Stand out from the competition by providing helpful and unique content.
8. Secure Site
Over the past few years, there have many numerous data breaches. Consumers really do care about what you are doing with all of their information. The European Union recently passed a law known as GDPR that states, if you do business with anyone in a European country, even if located in the U.S., your website must inform visitors what you are doing with their information and why you are collecting it.
For example, the global company Nestle, not only visibly lists their privacy policy, but they also have a popup that indicates the site uses cookies and asks you for consent. Due to GDPR, you will start to see this new feature on many sites. If your site does not already have notifications and a privacy policy in place, it must do so.
What Visitors Want
Determining what visitors want when they come to your site is not always easy, but it is worth a try. Take note, however, what consumers want today, may not be the same tomorrow. It is important to ask your current customers what your site is missing and continue to add and improve your website over time. Your customers will turn to you over your competitors if you always look for ways of putting them first.
If you would like to speak with us regarding the improvement of your web site, please contact us today.