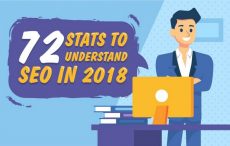 SEO Stats You Need For Your Business
Organic search is arguably the most valuable marketing channel out there. No matter what kind of business it is that you own, whether you are small or large, SEO is not something you can bypass.
If someone is using a search engine to look up a topic related to your business, then they are the customers that you want to be targeting, and you need to be there. Since the formation of search engines, it has been a powerful strategy that is used to make sure that brands are noticed by the right users at the right time.
In order to achieve a decent SEO search ranking, you have to be willing to give it a lot of time and attention. It is for this reason that some companies may hire external experts to do the job for them, a choice that can be pretty pricey.
It is completely possible achieve excellent SEO by yourself and, depending on the type of business you own and the type of search you want to increase, you will have to use a range of strategies and tactics.
It's not just general SEO you have to think about either, Google is now placing significant importance on local SEO and mobile SEO. According to recent data curated by seotribunal.com as much as 58% of website traffic comes exclusively from mobile devices, which means that you should definitely focus on optimizing your website for mobile.
When customers are looking for a product or business similar to yours, chances are they are going online to find it. Even if you are a brick and mortar store that does not yet sell products online, having an online presence and strong local SEO strategy is key to diving more people to your store.
Learning all the tips and tricks that come with good SEO will not be an overnight fix, it is something that will take considerable amount of time and effort to understand and integrate.
Thankfully, the SEO experts are here to help. They have created an extensive infographic filled with SEO facts that will be invaluable on your journey to the top of search engine rankings, so make sure to check it out!
If you'd like a free SEO consultation, please contact Net-Craft.com today.