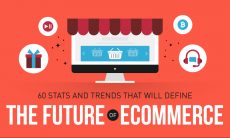 60 Stats & Trends That Will Define The Future of E-Commerce
Shopping online has technically been around since 1979 but it really did not begin until the internet was opened to the public in 1991. Amazon and eBay launched in 1995 and these two web sites helped deliver eCommece to the masses. Nowadays any size business that sells a service and/or a product must have an eCommerce store!
Today, online shopping is used by millions on daily basis and it is hard to imagine our lives without it's convenience. Constant adoption and innovation among software and hardware have helped drive worldwide eCommerce sales to approximately $2.8 trillion in sales in 2018. By 2021, this number is expected to grow to $4.5 trillion! Where is eCommerce headed in the years beyond that? To help answer that question, the team behind Subscriptionly.net has illustrated 60 stats and trends set to define the future of eCommerce.
If you would like to speak to one of our representatives about the development or maintenance of an eCommerce store, please contact Net-Craft.com today for a free consultation.