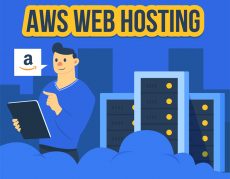 AWS Web Hosting
Amazon Web Hosting or AWS started in 2002 and launched in 2004. In 2004, Amazon Web Services blog launched with a blogger by the name of Jeff Barr making the first blog post. AWS was officially relaunched in 2006 with two services. They have been growing ever since then, such as adding new regions each year. AWS is available in 55 zones in 18 geographic regions. It provides web hosting to not just businesses, but individuals and governments as well. Most web hosting companies charge high prices for a shared hosting plan, but not with AWS. They make sure to keep their prices low for all of its customers so that others can easily find you with ease.
The numbers itself tell you how successful they are. To date, they have one million active users from around the world. They provide web hosting to businesses in 190 countries. In fact, in 2017 alone, they had a revenue of $18 billion and has grown to almost 50% in 2018. The reason AWS is so successful because many companies that we know use Amazon servers, including Netflix, AOL, Pinterest, and Reddit. GoDaddy has even moved the majority of its infrastructure to AWS even while it remains the largest web hosting provider in the world.
In 2013, the CIA picked AWS over IBM for their private cloud. AWS is still the best web hosting company, even though, they've had some setbacks in the past with outages. One of the most infamous outages was on Friday the 13 in September of 2013. It has been given the name Friday the 13 Outage. Regional customers in Virginia availability zone experienced an outage for two hours because of a load balancing issue.
AWS is a billion-dollar business and continues to grow with a plan of adding a region in Bahrain. It will be the first for the Middle East.
If you would like to explore the benefits AWS has to offer for your web hosting needs, please contact Net-Craft.com today.