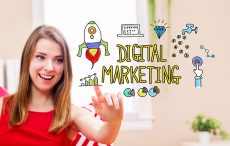 Small Business Digital Marketing Tips for 2019
Consider these tips for 2019 small business marketing to optimize your success in the digital economy world. For those who are interested in gaining more knowledge in online marketing for small businesses, new opportunities have been created. But, the fast-changing digital economy has become more competitive, requiring new business owners to create and implement marketing strategies that tackle this competitive environment. A number of strategies will make a significant impact while also increasing in value. In this article, 2018 top digital marketing tips with the potential of increasing in value in 2019 are covered.
Referral Marketing
Referrals are a powerful marketing tool, as the people included are in a relationship already. When they refer their family and friends to your business, there is automatically a higher quality of contact than if they found your business through Google or another search engine. This is the reason referral marketing was one of the more powerful marketing tips for small businesses from 2018.
Search Engine Optimization and Localization
The process of local search optimization is when your online presence is utilized to market services or products to customers in your local area. While the process of gaining the desired results may seem complex, the benefits are well known.
Several businesses do not take the time and energy to upgrade their website, which often creates an unappealing image to visitors. Their site can consist of errors as well that search engines like Google use to decrease the page ranking. Any 2018 localized search engine marketing strategy must include an upgrade of the website for the benefits to remain in 2019. This strategy is a leading solution for digital marketing for small businesses.
Link Building Strategies
To identify different qualities about a website, search engines utilize algorithms. Algorithms are used to rank and identify the level of recognition with those who search online. Visibility of the site is affected by rankings, and high-quality links can increase the ranking in the results pages. Search engines analyze links (outbound or inbound) in terms of relevance.
Unrelated links can be penalized. However, rankings improve when links utilize anchor text related to the subject. This includes internal links also, where the anchor text is used to forward the visitor to a different page on the website. In order to maintain high rankings with Google as well as the other search engines, the text must be related to the destination page content. Long after the original task is completed, businesses engaging in link building strategies can expect to benefit on its residual effects.
Content Marketing
Customers always search for specific services and products; however, this information must be communicated by the site in a small amount of time. While you are gathering your collection of 2018 small business marketing tips, it is essential to remember that content is the leader. As the digital landscape changes, this will ensure your website remains relevant through 2019.
Content marketing provides marketers with the necessary materials to meet the basic requirements of search engines. These materials include the relevant search terms, appropriate keyword density, as well as word choice variation.
Online Reputation Management
An essential part of any successful digital marketing strategy for small businesses is online reputation management. Many online consumers trust the experiences of their friends and family. These consumers listen to those who are in contact already with your business, making it a very effective 2018 small business marketing tip. More than ever before, social media is expanding the ability of businesses of all sizes to communicate with the customer in ways that are more relevant and engaging. One of the top 2018 digital marketing tips is handling the reputation of the business. A comprehensive technique of communicating across media outlets as a way to reach potential customers with unswerving messages should be included in small business digital marketing.
If you would like to speak to a Net-Craft.com representative about your current internet marketing strategy, please contact us today for a free estimate.