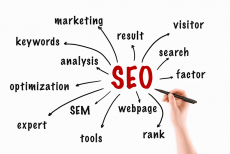 What Can I Do to Help My Store Rank in Search Engines?
Over time, we have learned that organic search engine optimization is a long-term investment. However, new store owners can gain much value by developing an easy strategy and ensuring their storefront is following suggested practices. To help new store owners accomplish that, consider the outline steps in a simple to follow checklist.
I. Recommended tool setup
II. Google Search Console
Using the Search Console account, you created, submit your sitemap to Google. A sitemap file is automatically generated for all Shopify stores. This list your site's pages. Sitemaps inform search engines about your site's organization.

 

Check for crawling errors by using Google Search Console. Search engines such as Google, index websites via bots that "crawl" the site as well as its pages.

 
III. Keyword Research
Utilize Google's Keyword Planner to get keyword ideas and to determine the search engine volume of keywords. It is a good idea to familiarize yourself with Google's Keyword Planner.

 

Map keywords to content types. Every page on your website can rank for different keywords.

 
IV. Page Optimization
Ensure you are using only one H1 tag on your website pages. Header 1 (H1) tags are commonly used for the pages main headline. They typically include the page's main keyword.

 

The meta description should be kept at under 155 characters and be punchy. According to Google, meta descriptions have no exact character count. However, Research from Moz shows that many meta descriptions get cut off at the 155-160 character mark.

 

Page titles should be kept under 60 characters, so they are not shortened in the search engine results.

 

Write compelling page titles. Meta descriptions and titles should describe the page's content including essential keywords.

 

The page URL should include a keyword. Page titles change into the default URL for Shopify stores.

 

Be sure that your images have filenames and descriptive alt tags. Google images account for approximately 23 percent of web searches. To make sure your images show in image results, images should have descriptive titles.

 
V. Links
A link building strategy should be created. Search engines use the number, relevancy of links, and quality to a particular website or page as a ranking factor.

 

Analyze your competitors' mentions and earned links. You can explore what pages and sites link to your competitors with Ahrefs Site Explorer and Moz's Link Explorer.

 

Search for press mention opportunities.

 
VI. Content
Begin developing a basic content marketing strategy.
1. Brainstorm customer questions.
2. Aid customers in gaining more value out of the product.
3. Match questions with search terms using keyword research.
Blog posts and informational pages should try for ̴̴̴ 500 words. Valuable content is clear and concise. To answer a question fully, a minimum length would be needed.

 

Write original product descriptions. Any and all content which is written for your store should be original.
Product pages should have product reviews added. Before making a purchase, 95 percent of shoppers read reviews.

 

When necessary, use directs.

 
VII. Reputation Building
Setup your company one all platforms including Facetime, Instagram, Twitter, and Pinterest.

 
VIII. Additional ranking factors
Be sure your store is fast. For both mobile and desktop searches, speed is a ranking factor.

 

Review your website on mobile. Ensure that all your webpages are readable on mobile and they are on your desktop.
IX. Take a basic SEO course. 
Stay informed with a reading list, as search changes often. As technology continues to move forward, SEO sees many small changes. You can begin by receiving updates from Google by reading Think With Google and Webmaster Central publications.

 
If you would like to speak to one of our search engine consultants for a free consultation, please contact us today!