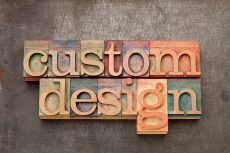 How Customized Web Design Can Lead Your Business
Whether you're preparing to launch your online business or just want to give your current website a makeover, you know you can no longer rely on templates and cookie-cutter design. Today's websites have to stand out, and that means you need something built specifically for you. Custom web design in Scottsdale, AZ, is much more affordable than you may think, too. Here are a few ways having a custom website will lead your business forward. 
It Looks Professional
When someone visits a website done using a template or online website builder, it's almost immediately obvious. Not only is the layout the same or very similar, but some of these templates even have the template name stamped somewhere on each page. No one wants that. 
With a custom design, everything is built from the ground up for you. This means the layout makes sense for your business. Everything is eye-catching without being too much, and the navigation makes logical sense. The entire site will feel well-thought-out and be easy to use.
It Will Be Branded
Branding is vital on your website. A customized website will incorporate your company logo, colors, and other identifying marks smoothing, placing them in the correct locations without making them too overbearing or noticeable. Your logo is one of those elements that should be present throughout the site, but never in an intrusive way, and a professional designer knows how doing that.
It's Personalized
Since your website is built to your needs, it's also very personalized. You can add pages that make sense for you and skip the ones that don't. You may need a FAQ, About Us, and Contact Us pages, but you might not. It might make more sense for your Contact Us form to appear along the right-hand side of your homepage, for example. With a personalized website, you can have that.
It's Search Engine Optimized
You have full control over the keywords and other metadata in a customized website. This means you'll be able to make the most out of SEO, getting your page ranked higher in search results. This can make a huge difference in the amount of traffic and sales you get. 
You Don't Have to Do It Yourself
One final great reason why customized web design can lead your business forward is that, unlike a DIY template or builder, you don't have to learn how to do it yourself. You've got a professional designer on your side. Affordable web design in Scottsdale won't break your budget, either. It's a vital part of getting a business online or improving your online presence.