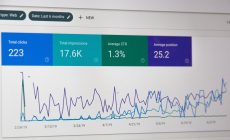 How to Measure the Success of Your SEO Efforts
SEO is pretty much a must for anyone that wants their brand, business and message to be heard and seen by people. The thing is that all markets, no matter the industry and niche, are saturated with the competition. Globalization is in full swing and SEO is the new battleground where we all have to compete in order to stand out. The beauty of SEO is that it is measurable. And if you can measure it, you can improve upon it. And that is what it is all about, constant improvement. Rules and criteria constantly change as the market expands. There is a great number of components and variables that go into a successful SEO campaign. Here are some of the ways to measure the effectiveness of your SEO endeavours while taking into account all of the variables.
Keyword rankings
No SEO campaign can even begin without appropriate keywords as these are an essential element. Now, what constitutes as appropriate depends on several other factors. You need to be targeting the right ones, relevant to what you are doing. If your current keywords are not putting you anywhere on the map, you may need to change your strategy and switch towards less competitive keywords. They also will help with the growth of your website. As time passes, your rankings should improve along with the actual number of keywords your site is ranking for. These areas will give you insight into whether your site is gaining ground in the online marketplace and if your posts are picking longtail traffic.
Organic traffic
The most important kind of traffic going through your website is called organic traffic. Needless to say, this kind of traffic is the most valuable and sought after one. Contrary to popular belief, whenever there is a downfall of overall website traffic, companies immediately deduce that it is because of tanking organic visitors. Often enough after some further digging, it is usually the case other sources of traffic are leaving us wanting. All of these analytics are easily accessible. Organic search traffic over an interval of time can be opened in your channel grouping section of the Google Analytics program. There, you will be able to see different traffic sources segmented by channels. From these reports, you can determine things such as the top landing pages for each type of traffic. Also, the keywords that are driving most of the traffic, which search engines are used most frequently, your top ranking exit pages and more. These analytics can provide you with all the tools and information on what is going on and how to improve upon your numbers.
Traffic quality
Quality is anything but subjective when it comes to SEO. As with all aspects we are dealing with in this article, it can be measured and therefore, improved upon. There are plenty of ways to measure the quality of all your traffic channels. The tools most often used to measure improvements or declines in the quality of search traffic is the Assisted Conversions report. With it, you can set the date range and compare it to a previous period. Now you have two periods of time on your screen ready to be compared. Use this report to find a decline or an improvement in conversions from search traffic. If a business were to experience a decline in conversions but the overall search traffic is keeping steady, it can easily be determined that the traffic coming in is not of very high quality. In a similar fashion, an improvement in this area can be attained from utilising more refined and thought-through keywords which are an essential element in any SEO campaign.
Key performance indicators (KPI)
Key performance indicators are certain metrics and measurements that are used to gauge whether your business activities are successful. SEO has a lot of data associated with its mechanisms making it very complicated to work with. Getting concrete conclusions can prove to be difficult especially if your problem is buried deep within the data. The main problem is always which KPIs to use and which ones to tie and attribute to the objectives that you are trying to achieve. KPIs are tied to marketing goals. A basic digital marketing plan is a prerequisite for any online and SEO campaigns. These determine your objectives which are closely connected with your KPIs and show whether your SEO endeavours are successful. For example, your objective may be brand awareness. You basically will be raising awareness for a new product, brand or company. Maybe you also want to gain new leads for your client. No matter the objective you are trying to achieve, there is a KPI associated with it. The responsibility of isolating the important ones and focusing on improving them falls upon your shoulders. For more on KPIs, it is best to consult professionals like GWM for example as it can get pretty convoluted.
Backlinks
There are many different factors that influence your SEO rankings and is pretty much impossible to track all of them. The quality and quantity of backlinks are always going to be somewhere on the very top of that large list. Needless to say, focusing on improving all the aspects of a quality backlink is always a good move and it will be reflected in better rankings by the leading search engines. Know how effective your link building strategies are. Also, look for potential sources for the future. Finally, cost-effectiveness is a major player. Basically, a large quantity of low-quality backlinks will not do your rankings any good. A few quality links is a better option to go with. There are many tools online to monitor if your backlinks are up to standard.
Conclusion
One of the most challenging aspects of SEO is to be able to articulate and quantify effectively the value such a campaign is bringing to a company. Now we have the tools to clearly distinguish the non-relevant data from the information that can be utilized to improve our SEO strategies for the future.
If you would like to speak to one of our SEO experts for a free search engine review, please contact us today.