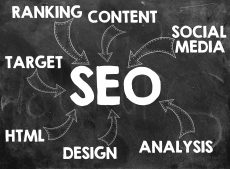 Top 5 Reasons to Invest in the Best SEO Services
There are a number of reasons you should hire an SEO service to help you with your website. Having an amazing website is only part of what it takes to launch an e-commerce company. Without SEO, you're going to find that you simply can't make the sales you want. Here are the top 5 reasons why you need to hire one of the best SEO services out there.
It's an Old, But Still Effective Strategy
SEO has been around almost since the first search engine, but that doesn't mean it's no longer effective. Yes, the methods have changed over the years, but SEO is still a very useful way of getting your website listed in search engines and pulling in potential customers. If no one can find your website, it doesn't matter how great it is—you won't have many customers. SEO has proven again and again that it's the best way to get people to your website.
It Has a High Return on Investment
While the top SEO companies aren't dirt cheap, hiring an SEO consultant definitely has a great ROI. This is especially true when you look at the investment versus other types of marketing like email marketing, paid ads, social media, and other methods of generating leads. SEO is simply cheaper and, in many cases, more effective.
SEO Isn't Going Anywhere
People often speculate that SEO will become less and less important until it basically dies out. But people have been saying this for years, and it hasn't been true yet. SEO continues to be one of the foundations of website marketing, and that's not going to change. If you have an e-commerce site, SEO is vital. Even if you just have an informational website, you still need it to be seen. Investing in good SEO is investing in a long-term marketing plan, and it's worth it.
Customers Are Buying Online More than Ever
More and more customers are shopping online instead of buying in brick and mortar stores. Internet access has become widespread and affordable, and nearly everyone has a device that can go online now, whether it's a computer, a smartphone, a tablet, or a gaming system. With more demands on their time, people find shopping online more convenient since they can do it at their leisure. If you're not online, you're losing customers.
Your Competition is Using SEO
Your competitors have hired the best Scottsdale SEO company and are working hard to make sure their website can be found by customers. If you're not, they're going to be stealing those customers away from you. Even if you see no other benefit to SEO, you've got to do it to keep your share of the market.
If you have questions about SEO and how it can help increase your business sales, please contact Net-Craft today.