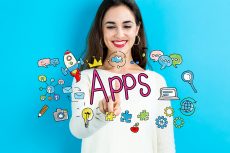 Mobile Development: Smart Ways to Do Business
Mobile development may be a somewhat new option for stores, but it's one that is poised to become the future of online business. Companies that don't have apps may find themselves left in the dust by those that have partnered with a mobile app development company.
If you're going to work with a development company to create an app for your business or as a stand-alone product, though, you do want to make certain you use the right approach. This is a case where you need to take your time to work through what your app needs to do and how it should function. Here are a few things to keep in mind when working on an app.
Understand What Your Customers Need and Want
Before you even start working with a developer for your app, you need to know what your end-goal is, and that means knowing what your customers are going to need and want from an app. Do they want to make purchases? Browse your inventory? Learn more about products and read reviews? Who exactly is your target audience? If you can't answer this question, you may find yourself spending a lot of money on an app that doesn't give you the results you want.
Look at What Phones Are Missing
If you're not looking to create a stand-alone app that doesn't link in with a business, one way to get ideas for that app is to look at what phones don't have. You may need to look at certain models of phones to see if they're missing apps. You can read customer reviews or go to tech websites to look at what people are saying about different phones, too. Sometimes, these articles will highlight things people wish the phone had.
Look at Improving Apps
If you can't find an app that's missing, you can always look at apps that are currently on the market with an eye towards improving them. Look at the most popular apps people are using and then search for things people dislike about them or functions they wish these apps had. If you can make an app that does everything this other app does while also including these features, it may quickly become one of the most popular apps out there.
You don't necessarily need to know how to program apps to create one. Instead, you can partner with a company that specializes in mobile app development in Arizona. With their expertise and your ideas, you may be able to create an app that sets the new standard for mobile phone users.
Please contact us today for a free mobile app development consultation.