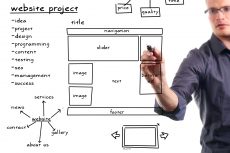 Follow These Tips to Choose a Web Development Company
If you're looking for a web development company in Phoenix, you want to make sure you're working with the best. If you're solely an e-commerce business, your website is the single place for your customers to shop your products. If it's not great, you're not going to impress them and make a profit. Before you select a web development company, you should use these following tips to narrow down your options.
Look at the Services They Offer
Some web development companies only offer websites built on templates. This is fine, but these templates aren't customized for your business. Your website is likely to look very similar to other websites this company has designed. That means you're not going to stand out. Some businesses may not get the most out of these templates, either, since they are designed with a "one size fits all" approach. While they're very affordable and can be built quickly, websites based on templates may not be the best option.
Custom websites, on the other hand, are built from scratch for each client. These companies are going to charge more and will need more time to create the website, but the end result is tailored specifically to your needs and will be unique to your company.
Are They an E-Commerce Specialist?
Some options for web design in Scottsdale, AZ, focus on general websites. Others, though, are e-commerce specialists. They understand everything about integrating shopping cart systems with websites in such a way that the entire process is seamless and easy for customers. If you're in need of an e-commerce site, you may want to look for companies that focus specifically on these sites.
Check Their Portfolio
A good web design company will have a portfolio of previous projects on their website. Take a look at the other sites they've designed and see if you like them. If you find those sites a little confusing to navigate or don't like the look of most of them, the company may not be for you.
Read Online Reviews
Most web design companies have been reviewed on sites such as Yelp, Facebook, and Google. These reviews can give you an idea of what other customers think of the company and what their experience was.
Look at the Company's Own Website
If a web designer doesn't have a great website, you need to think carefully before you hire them to create yours. Their own website should show off their skills at creating a sleek, easy to use website that looks great.
By following these tips, you'll be able to weed out some of the less skilled web designers and those who may not be able to build a site that reflects your needs and your company. Once you've done that, you'll be able to look more closely at those who do look like a good fit and make a decision.
If you would like to speak to us about a free web development consultation, please contact us today.